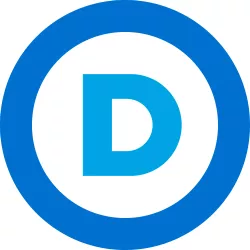 Image via
The new democratic party logo: The letter "D" inside a circle. Yes, that's what she said.
Last week, Gut Check offered up a list of ten snacks to pair with Republican National Convention coverage. Of course, the fun doesn't stop there. On Tuesday, September 4, the Democratic National Convention kicked off in Charlotte, North Carolina, prompting Gut Check to brainstorm another set of themed snacks for the occasion. Never say we're not fair and balanced here, people.
Beef Jerky Maybe it's irrelevant that Clint Eastwood's RNC speech channeled Abbot and Costello Meet the Invisible Man. Maybe it's not. We're not doctors; we're not comedians. Maybe one man's schtick is another's senility. What we do know is that, at least in movies (and sometimes in real life), Clint Eastwood is a crazy gun-wielding badass. And no snack food better embodies a leathery hard-ass like a strip of beef jerky. In honor of Eastwood's speech, Gut Check will be gnawing on jerky every time an occurrence at the DNC leaves us confused, worried or chuckling -- ideally all at once.
French Fries, Michelle Obama's Guilty Pleasure Food In an interview earlier this year, First Lady Michelle Obama said French fries were one of her favorite guilty pleasure foods. Though she was quick to note, "It's all about balance and moderation," Gut Check's approach to food is markedly less restrained. Michelle has worked tirelessly to promote the benefits of healthy eating and fitness, and that's great, for other people. For Gut Check, though, it's all about the guilty pleasures -- we are watching the DNC, after all. Scrapple, a.k.a., Pon Haus Did you know Vice President Joe Biden is from "hard-scrabble" Scranton, Pennsylvania? It's basically his best kept secret. What's not a secret though -- but maybe should be -- is Pennsylvania dish "Scrapple," also known as pon haus, also known as,"...mush of pork scraps and trimmings combined with cornmeal and wheat flour, often buckwheat flour, and spices." It looks like this: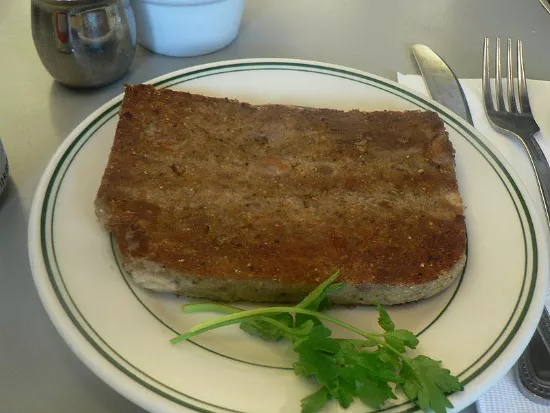 Scrapple: A different kind of game altogether.
When Biden speaks on Thursday, September 6, scrapple would be a downright honorary meal to snack on. Its mix of meat and carbs, however, might send you running to the restroom for the remainder of the evening.
Rainbow-Stuffed Oreo Cookies In June, Kraft Foods uploaded an image of an Oreo cookie filled with rainbow-colored frosting with the headline "Proudly Support Love!" to Oreo's Facebook page. The move was clearly made to support gay pride month, and of course, spurred anger from angry people. It would stand to reason, then, that pro-marriage Oreo Cookies should be the official dessert of the DNC.
Marlboro Reds, President Obama's "former" favorite cigarette brand Yeah, yeah, we know he "no longer smokes cigarettes." The question that no one is asking, though: Is he eating them? Signs point to no, but if you get bored enough, channel the President's edgier past and light up a few Marlboro Reds. Or eat them. We really don't care what you do.
White Castle Sliders, Cheese Fries, Chicken Rings... To Gut Check, he'll always be Kumar of Harold and Kumar Go To White Castle, but actor Kal Penn is passionate about a lot more than sliders and cheese fries. During the 2008 election, Penn backed Obama for the presidential bid, appearing in promotional ads, and joined his National Arts Policy Committee. Still repping Team Obama, Penn is co-chair of his re-election campaign and will host the last night of DNC coverage on Thursday, September 6. This has "Crave Case" and doobies written all over it.
Pot Brownies No, we're not finished talking about pot yet: Obama's surely not the first President of the United States to do drugs, but he's the first to cop to doing so.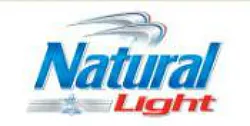 Natty Lite Though Richard Nixon was president when man first stepped foot on the moon, it was democratic President John F. Kennedy who first dreamed of that leap for mankind in a speech to Congress in 1961. Another first for the moon came in 2011, when it got it's first taste of beer with the launching of a can of Natural Light into space. Aside from the now-historic glow, Natty Light is a native son, produced by Anheuser-Busch, and, more generally, a cheap-ass way to feel no pain -- an imperative for viewing political convention coverage.
Kenyan Snacks Get it? Ethnic cuisine in Kenya varies by region, but in central Kenya soil yields solid crops of sweet potatoes and taro root...so, sweet potato chips? Taro chips? This is 'merica, where tubers obviously taste better when fried in oil.
Homemade Puppy Chow On November 4, 2008, new president-elect Barack Obama said the following in his acceptance speech in Chicago's Grant Park: "Sasha and Malia, I love you both so much, and you have earned the new puppy that's coming with us to the White House." Sure enough, Bo, the Obama family pooch, a hypoallergenic bred Portuguese water dog, was gifted to the family shortly after the President took office. Though it's generally prepared as a trail mix type snack for children, chowing down on fist-fulls of homemade "puppy chow" during the DNC will surely honor Bo -- if not a few other dogs in attendance. A-gah-gah-gah-gah-gah-gah!