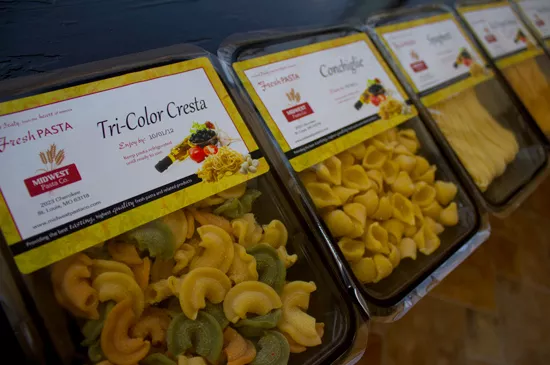 Mabel Suen
Midwest Pasta Company varieties include tri-color cresta, conchiglie, spaghetti, red pepper vermicelli and whole wheat linguini.
At the corner of Cherokee Street and Illinois Avenue in a space originally built to be a dairy, a team of thirteen at Midwest Pasta Company (2023 Cherokee Street; 314-772-7560) mix, roll out, cut and package 2,600 pounds of fresh pasta per week.
Production for local wholesale distribution at the Cherokee Antique Row location has been going strong since the company's inception in September 2011. Two weeks ago, the front of the house opened its doors to the public to sell pasta as well as accoutrements such as sauces, olive oil and herbs.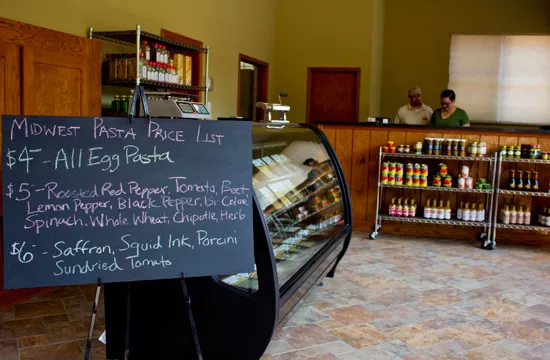 "We're still in the nucleus stage of the retail space," says director of operations David Burmeister. "We'd like to expand our product line to include different St. Louis based products - that's pretty much the prerequisite for the shop."
The Midwest Pasta Co. team cranks out product like clockwork on sets of mechanized mixers, sheeters, laminators and cutters, efficiently sweeping up excess flour that coats the production kitchen in a light snow-like layer throughout the process. Just-completed noodles drape uniformly over rods hung on speed racks as the team mobilizes to complete its next batch of ravioli.
Mabel Suen
Fresh noodles including flavors like regular egg, squid ink, spinach and lemon pepper hang on rods after being run through a cutter.
The laminated pasta, extruded pasta (think Playdoh Fun Factory, except this is safe to eat), gnocchi and ravioli are delivered to grocers such as Local Harvest Grocery as well as restaurants including Charlie Gitto's, I Fratellini, Schlafly Bottleworks and Anthonino's Taverna, where it appears in various entrees.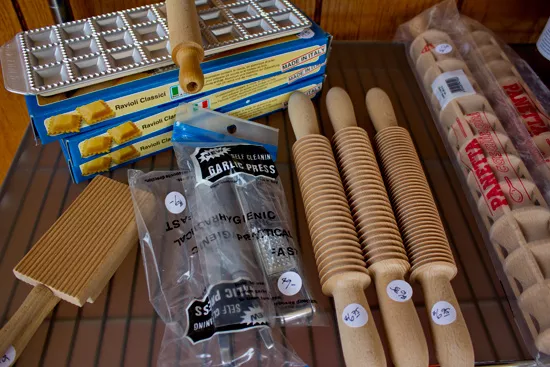 Mabel Suen
Some pasta making tools for sale.
The biggest difference between Midwest Pasta Co.'s fresh, premium-quality pasta and dried pasta found on grocery store shelves is in the ingredients, such as all natural, preservative-free whole shell eggs and milled durum and semolina Italgrani flour.
The selection of pasta in the storefront is generally driven by wholesale demand. Leftovers from each batch are packaged and sold in the retail storefront for $4 to $6. Look for varieties like spaghetti, whole wheat pasta, porcini mushroom, spinach linguini and much more.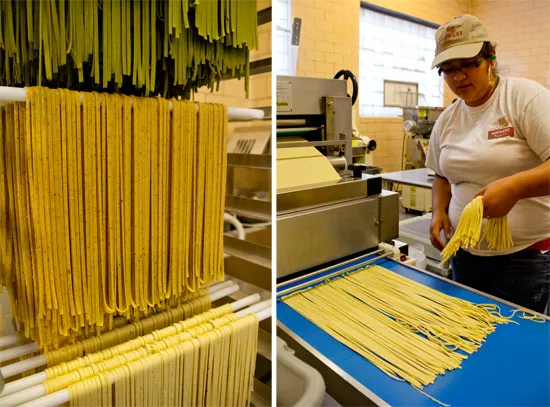 Mabel Suen
An employee runs a test batch of pasta through a cutter.
Visit Midwest Pasta Company during store hours Monday through Sunday from 11 a.m. 6 p.m. You can also find Midwest Pasta Co. goods at Tower Grove Farmers' Market, Webster Groves Farmers' Market and Maplewood Farmers Market.