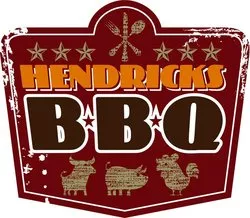 - Hendrick's BBQ opened this afternoon at 1200 South Main Street in St. Charles, according to its website and Facebook page. The barbecue joint is the latest venture from local restaurateurs Dr. Gurpreet Prada and Ami Grimes, who also operate Cafe Ventana (3919 West Pine Boulevard; 314-531-7500), Sanctuaria (4198 Manchester Avenue; 314-535-9700) and Diablitos Cantina (3761 Laclede Avenue; 314-644-4430), and their go-to chef, Chris Lee.
Update: (Friday, August 31, 9:17 a.m.) Though the restaurant posted that yesterday at 4 p.m. would be its soft opening, I've seen at least one comment online that it didn't open.
No one is answering the phone at the restaurant yet this morning, but definitely call 636-724-8600 before you head over there today. More as we learn it.
Hendrick's BBQ is calling this a "soft" opening, so be patient and forgiving. According to the Hendrick's BBQ website, the restaurant's hours will be 11 a.m.-10 p.m. Monday through Thursday, 11 a.m.-11 p.m. Friday and Saturday and 11 a.m.-9 p.m. Sunday. The bar will remain open until 1:30 a.m. on Friday and Saturday and until business peters out all other nights.
Gut Check will have a "First Look" at Hendrick's BBQ soon.
- St. Louis social-media whiz Erica Smith -- seriously, if you live in St. Louis and use Twitter and don't follow @ericasmith, you must -- pointed out a new food truck to me: Legghorns and Shakes, which you can follow at @Legghorns. The Legghorns and Shakes menu features chicken sandwiches, pork tenderloin, salads and shakes featuring homemade ice cream.