[image-8]
So. You need to make some Jell-O shots. A lot of Jell-O shots. First, you'll need to boil some water, add about a cup of vodka, and a packet of Jell-O mix.
Cut to a black-and-white film reel of a woman spilling piping hot, alcohol-infused Jell-O juice from the pot everywhere! What a disaster! Is there no relief from this torment?
Ta-da! Introducing, The Jellinator! A locally-invented and produced, Jell-O shot crankin', game changer. Gut Check took one for a spin and reports on the fascinating results.
Trish Piazza of Creve Coeur told Gut Check that the Jellinator came into being when she needed to make a bajillion Jell-O shots for a golf tournament. She argues that rather than a mere sorority party mainstay, the Jell-O shot is actually poised to go mainstream.
From a video demo of the Jellinator.
"It's a nice conversation starter," she says. "Now people expect Jell-O shots from me. I can whip out a batch of Jell-O shots a lot faster than I can bake a cake. And a bottle of wine is so boring."
The name conjures an image of a magical one-step Jell-O shot factory, but its main function is to take the mess out of getting the shots into their individual cups. It's basically just a funnel connected to a tube with a spring-loaded trigger tip. Push down on the tip and the Jell-O juice flows, release and it stops. As the package says, "The Magic Is In The Tip." Indeed.
Click through to see Gut Check's lovely hand model in action. Behold the magic in the tip: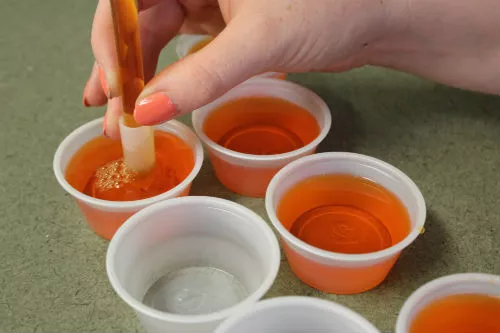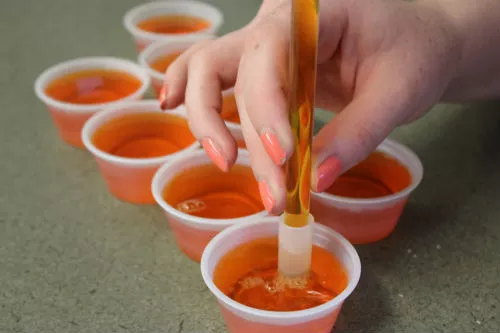 Piazza's invention retails for $18.99, or $27.99 including 125 Jell-O shot cups with lids. She says they've sold about 5,000 units so far and are still producing them in their home.
At first, Gut Check just threw a pack of blue Jell-O together with some vodka, and Jellinated away. The results were so popular that we decided to get a little more creative.
We jiggered the lock on the Gut Check liquor cabinet and came up with three recipes:
Piña Colada: pineapple Jell-O + Malibu rum Margarita: lime Jell-O + tequila + triple sec + salt rim Screwdriver: orange Jell-O + orange vodka
We learned several lessons almost immediately.
First, DO NOT SALT THE RIM OF A JELL-O SHOT. It sounds and looks cute, but the combination does not inspire a salty-sweet umami moment. It's just vile. Second, the tequila seems to take a lot longer to set. Third, an only partially set Jell-O shot will not light on fire, despite our best efforts.
Aside from that, Piña Colada was hands down the most tasty and Screwdriver packed the biggest wallop.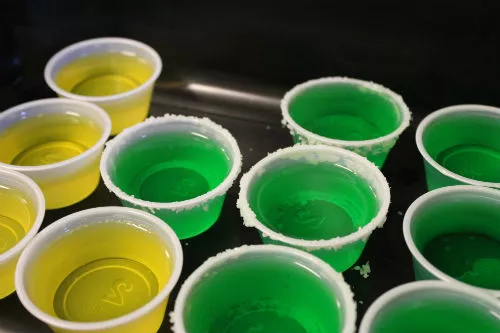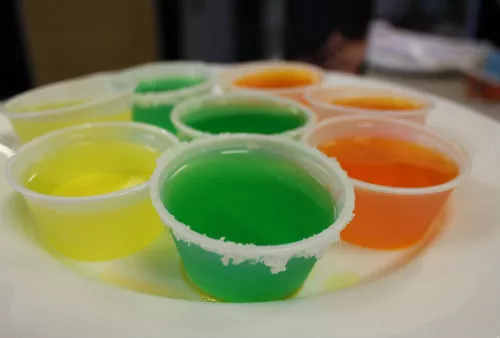 The Jellinator definitely sped the process up and it's easy to see why you'd never go back to making them without one. But probably the most important lesson is this: In these crazy times, in our fast-paced workaday lives, we sometimes forget to appreciate the little things. Little things like Jell-O shots, which are awesome, and should really get trotted out more often. In fact, Gut Check has been asked to make Jell-O shot service a daily office event, which is TOTALLY doable thanks to the Jellinator.
We'll keep you appraised of new recipes, which will hopefully ascend to new heights of sophistication. Share suggestions if you've got 'em!