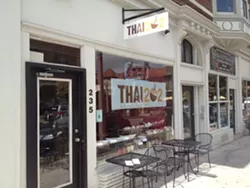 Ian Froeb
Thai 202 opened in the Central West End this month.
This month has been a busy one for restaurant openings, including the long-awaited reopening of the Mexican restaurant -- though not the same Mexican restaurant -- in Lafayette Square, a new Thai restaurant for the Central West End, a new spot for the coffee-geek set and a drive-thru sushi joint in Brentwood.
As always, if we missed an opening or closing, please let us know in the comments.
Openings
Comet Coffee (5708 Oakland Avenue; 314-645-7158) Hendrick's BBQ (1200 South Main Street, St. Charles; 636-724-8600)* KimCheese (13435 Olive Boulevard, Creve Coeur; 314-485-1408) Laredo on Lafayette Square (2001 Park Avenue; 314-231-9200) Legghorns and Shakes (@Legghorns; 314-562-1599) [food truck] Manila Bistro (343 South Kirkwood Road, Kirkwood; 314-966-5288) Mariachi's II (4625 Gravois Avenue) Oceano Bistro (16125 Chesterfield Parkway West; 636-536-9404) [additional location] Pasta House Co. (15 North Central Avenue, Clayton; 314-725-6588) [additional location] Potbelly Sandwich Shop (11615 Olive Boulevard, Creve Coeur; 314-991-6800) Sauce on the Side (903 Pine Street; 314-241-5667) Thai 202 (235 North Euclid Avenue; 314-367-2002) To Go Sushi (8950 Manchester Road, Brentwood)
* - Scheduled to open Thursday, August 30. Actual opening still in question. Call ahead.
Page through for closings and a relocation
Closings
Delmar Restaurant & Lounge (6235 Delmar Boulevard) Donut House (8500 Morgan Ford Road) Tucci & Fresta's Trattoria and Bar (15 North Central Avenue, Clayton) [converted into Pasta House Co.]
Relocated
Trattoria Toscana (11686 Gravois Road, Sunset Hills; 314-849-1499)