The 2012 Republican National Convention, or RNC, wraps up its four-day festivities tonight at the Tampa Bay Times Forum in Tampa, Florida with a speech by GOP candidate Mitt Romney. Over the course of the convention, speeches have been made by former governors (and presidential hopefuls) Tim Pawlenty and Mike Huckabee, as well as former Secretary of State Condoleezza Rice and Romney running mate Paul Ryan. But before Gut Check can talk politics, it's imperative that we first talk snacks. See, for us, watching political convention coverage isn't unlike a night at the movies -- for both, you can find us perched on the edge of our seat, yelling at the screen and working up an appetite. To prepare for tonight's closing ceremonies, Gut Check has compiled a list of on-theme snacks to stockpile.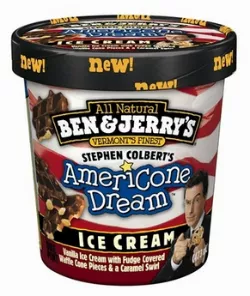 Stephen Colbert's AmeriCone Dream Ice Cream In 2011, Gut Check taste-tested two Ben & Jerry's ice cream flavors fashioned for late-night show hosts Jimmy Fallon and Stephen Colbert. The verdict was that Stephen Colbert's AmeriCone Dream flavor edged out the competition, so it stands to reason that a pint of the vanilla-based ice cream well complements the RNC's vanilla-based proceedings. Of course, as the ice cream's namesake and his Nation well know, Colbert is backing a Romney/Ryan ticket in this year's election, which means a vote for scoops of AmeriCone Dream is a vote for elephants everywhere.
Nuts (for Throwing) On Tuesday, August 28, stories emerged from the RNC that a convention attendee was forced to exit the Tampa Bay Times Forum after throwing nuts at a CNN camerawoman while yelling, "This is how we feed animals." More than grossly offensive, the incident also befuddles Gut Check for another reason: The elephant is the Republican party's spirit animal, and if we learned anything from Dumbo, it's that elephants love to eat nuts. It would seem that the dumbo nut-thrower, however, wasn't in the know.
Anything from Chick-fil-A Because, obviously.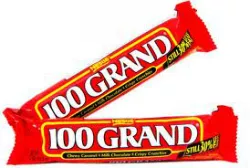 The only way Gut Check will ever earn $200,000 in two minutes' time.
1000 Grand Bar Once known as the $100,000 Bar, Nestle's 100 Grand Bar totes the slogan "That's Rich!" If the 100 Grand Bar is out of stock, a PayDay can act as a suitable alternative.
A Jimmy John's Sandwich Jimmy John Liautaud's politic leanings have proven slightly less polarizing to 'mericans than Chick-fil-A CEO Dan Cathy's, but they're just as thoroughly conservative. Liautaud's success story of turning an Illinois sandwich shop into a national chain is unfurled frequently by Mitt Romney on the campaign trail as an example of the triumph of small business. But then, one is wont to share the success of a company when one's dad donated $20,000 of seed money to its start-up.
White Bread Dipped in Water It's the preferred method of eating white bread for Ned Flanders. Thompson's Seedless Grapes They're legitimate!
Cheeseballs in the RNC's court?
"Mexican Food" from Taco Bell Despite statements to the contrary, Mitt Romney's campaign has released videos and materials stating that his family has roots in Mexico. In this video, his Spanish-speaking son Craig Romney reminds voters that his grandfather, George Romney, was born in Mexico. By his own admission Mitt Romney says it's "disingenuous" to describe his heritage as Mexican-American, and by Gut Check's own admission, it's disingenuous to describe Taco Bell food as Mexican-Anything. Bite into a Doritos Locos Taco and just try to prove us wrong.
Cheeseballs Wisconsin, Paul Ryan's home-state, is famous for its cheese. Politics, meanwhile, are famous for cheeseballs.
Crackers Before you call us out for using a pejorative term, know that every March Florida's Cattlemen Association annually celebrate "Cracker Day."