Updated with comments from owner Marcia Sindel after the jump.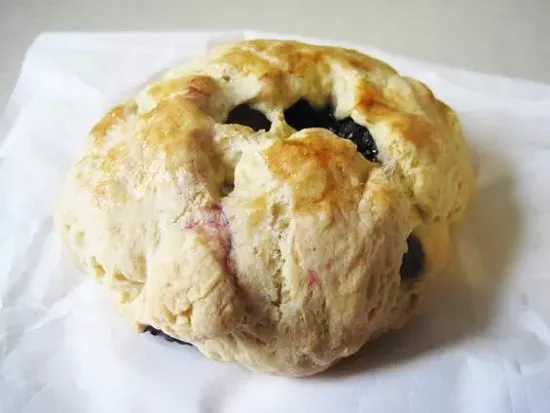 Ian Froeb
A blueberry scone from La Dolce Via
Per St. Louis Magazine, the restaurant and bakery La Dolce Via (4470 Arco Avenue; 314-534-1699) has announced via its e-mail newsletter that it will close after a final service on January 1, 2013.
Gut Check has a call in for additional information. (La Dolce Via is closed on Monday.) More as we learn it.
---
Update: (Monday, August 27, 3:45 p.m.) We heard back from owner Marcia Sindel this afternoon. She tells Gut Check that she isn't sure what lies ahead for her, but it almost certainly won't be another restaurant.
"It's been a really rough road the past few years," she says. "We got started on a real downturn when we did a Groupon. It took us so long to recover from that."
Sindel adds, "The whole mentality of St. Louis seems to have become the most food for the cheapest amount of money. We go out of our way to keep our stuff at a really high level."
She talks of customers pulling out calculators to make sure their purchases didn't exceed the $35 Groupon, of customers throwing down the printed offer and saying, "Give me $35 worth of stuff. I don't care."
"Those aren't people looking for a new place to go," she says. "I got pretty discouraged. I just decided it was time to move on. And not feel this way all the time."
Still, Sindel plans a festive sendoff for La Dolce Via. She's planning "theme" weekends: Wear a costume that fits the theme, and you'll receive free or discounted food. She's also extending the weekday hours to 7 a.m.-7 p.m. Tuesday through Friday to give regulars more opportunities for final visits.
"We do have a huge contingency of regulars," she says, "but they can't pay the way for everyone."
Of La Dolce Via, Sindel concludes, "It was my life dream. I did it. I did it ten years, and I did it well. We did our job. I'm proud."
In its ten years, La Dolce Via has won numerous honors from the RFT, including a spot on my list of 100 Favorite Dishes for its blueberry scone and a whopping nine Best of St. Louis Awards.
"Best Bakery" (2003) "Best Bakery" (2004) "Best Sunday Brunch" (2006) "Best Indulgence" (2006) "Best Kept Secret (Restaurant Division)" (2007) "Best Sunday Brunch" (2008) "Best Scones" (2009) "Best Pancakes" (2010) "Best Use of Leftovers" (2011)