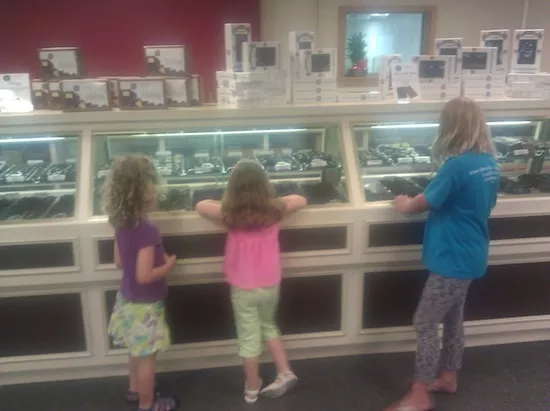 Kevin Cronin
The retail area of the new Chocolate Chocolate Chocolate Company factory
Last week, local confectioner the Chocolate Chocolate Chocolate Company cut the ribbon on its new factory at 5025 Pattison Avenue on the Hill. With visions of Willy Wonka and the Chocolate Factory dancing through our head -- except for the Oompa-Loompas, who still give us the capital-C Creeps -- we fashioned our own golden ticket: a tour of the factory from Dan Abel Jr., whose father founded the company in 1981.
Are there rivers of chocolate? Not really. There are nuts and fruits, however, so those with specific allergies aren't permitted to take the tour.
Visitors enter the factory through a spacious display room, which also serves as a retail space. Rows of cases display a vast assortment of confections. Among the truffles alone there are a dozen different varieties, including mint dream, pumpkin pie and "Hill Truffles," a special release with pistachios and "toasted ravioli" chocolates.
Visitors then walk the factory floor as confectioners assemble and hand-decorate hundreds of truffles and other treat. Visitors can even take their turn stirring milk chocolate in a large copper kettle. The entire process is surprisingly slow and quiet.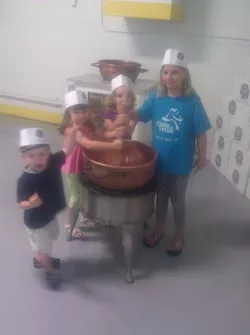 According to Abel it takes two to four days to produce most Chocolate Chocolate Chocolate confections. "We could produce double the number of chocolates," he adds, "but we keep the pace slow to maintain a high level of quality."
Every piece of chocolate is hand-inspected and decorated, and each contains all natural ingredients. "Our raspberry filling has some seeds in it because we use real raspberries," Abel explains. Another example: Since the company doesn't use artificially colored dyes, it had to create its own using natural ingredients such as spinach extract and egg yolk.
Abel is optimistic about the future of his family's company, "We wholesale all over the mid-west and having this factory allows us to reach a larger market."
So far, he notes, the response to the factory tour has been overwhelming: "We had three booked tours on Monday and the final count was over 400 visitors."
The Chocolate Chocolate Chocolate Company on the Hill is open from 9 a.m.-5 p.m. Monday through Friday and 9 a.m.-noon on Saturday. Tours run from 9 a.m.-3 p.m. Monday through Friday and 9 a.m.-noon on Saturday.