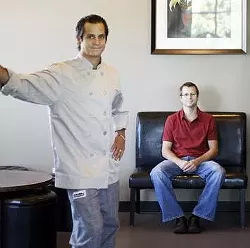 Jennifer Silverberg
Jason (left) and Adam Tilford of Milagro Modern Mexican
Ligaya Figueras of Sauce broke the news yesterday that brothers Adam and Jason Tilford of Milagro Modern Mexican (20 Allen Avenue, Webster Groves; 314-962-4300) plan to open a new venture called Mission at 6235 Delmar Boulevard in the Delmar Loop, the address vacated just last week by the Delmar Restaurant and Lounge.
Gut Check had a chance to chat with Adam Tilford outside the future Mission space this afternoon. He revealed to us that, in fact, he's planning not one, but two ventures for the Loop.
Tilford says Mission, named after the taqueria-heavy district of San Francisco, will be a "late-night taco joint."
"It's not going to be a typical Mexican restaurant," he adds. The vibe will be more "cool bar," including music from local bands. The menu will feature tacos, tortas and burritos.
Mission's lease begins on October 1. Tilford expects the renovation, led by SPACE Architecture + Design Studio (4168 Manchester Avenue; 314-647-2020), to be completed in about three months.
Tilford is especially excited about two of Mission's design features. In the window along Delmar Boulevard that looks into the restaurant's kitchen -- a view that's currently blocked by the back of the Delmar's cooler -- an employee will sit and press the restaurant's tortillas.
Though both Milagro and Tilford's other Mexican restaurant, Tortillaria (8 1/2 South Euclid Avenue; 314-361-4443), make their own tortillas in-house, Tilford says, "We never get credit" for doing so. He hopes the window display will change that.
Immediately to the east of this window, where there's now an in-set door blocked by a metal gate, the restaurant will have a walk-up window offering a limited take-out menu. Tilford envisions this as the perfect venue for patrons leaving a concert at the Pageant (6161 Delmar Boulevard; 314-726-6161) who want a quick dining option besides a hot-dog cart.
After showing Gut Check where the take-out window will be, Tilford notes the storefront next to the Delmar space. Though this was empty even when the Delmar was open, it connects to the restaurant's kitchen and office. In taking over the Delmar space, Tilford had a choice: He could give up that office and a part of the kitchen, or he could take over this storefront as well.
He opted for the latter. Having observed the lack of availability of basic groceries in the Loop -- not to mention the additional housing that Washington University plans to build nearby -- he decided to open a small bodega there. Tilford says the bodega won't open until a few months after Mission does. The restaurant will open for dinner and late-night dining in early 2013, with lunch hours likely to follow sometime later.