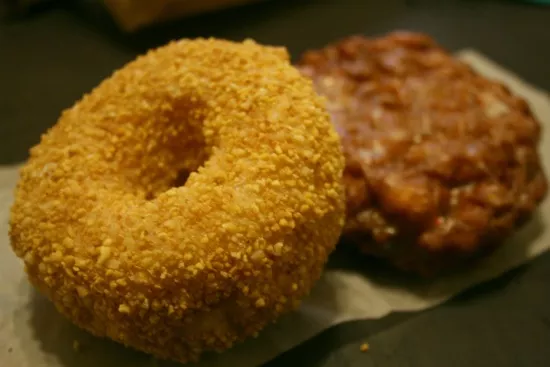 Chrissy Wilmes
Doughnuts from the Donut House, now closed
The Donut House (8500 Morgan Ford Road, south St. Louis County; 314-638-5828) has closed. The exact date of the closure is unclear. A "For Lease" sign is up in the windows, and the phone number has been disconnected.
Riverfront Times named the 24-hour Donut House the home of its "Best Doughnuts" in 2010.
The only thing better than comfort food is 24-hour comfort food. Yes, Donut House never closes, but what's more notable than simply its range of hours is its consistency in offering a huge selection of deep-fried confections whose quality never disappoints -- no matter what the hour. Whether they're Sunday Morning Church Doughnuts, After-Dinner Dessert Doughnuts or 3 a.m. Stumbling Home Drunk Doughnuts, they will be memorably fresh, tasty and served in a manner and atmosphere reminiscent of a 1950s diner. No apple fritter can compete with Donut House's, and the toasted-coconut cake doughnuts are beyond compare. Furthermore, the House appreciates its customers: The folks there have been known to sneak an extra doughnut or two into your bag with a wink and a smile.
Also, Gut Check included it among our "Eight Best Doughnut Shops in St. Louis" for 2011. For the latter honor, we wrote the following:
For your consideration: doughnuts for dinner. While this may seem a little unorthodox, at Donut House, guests can enjoy doughnuts for breakfast, lunch, dinner or anytime in between. The friendly staff serves up a wide variety of doughy goodness 24 hours a day, so when that craving hits, and the only cure is an apple fritter or perhaps just a simple glazed goody, Donut House is there to sate the need. Their doughnuts are light and airy, never spongy, and with hardly any hint of frying. The dough is just sweet enough so that each bite combines with the glaze or icing to create a satisfying and never-too-saccharine treat. If for some barely conceivable reason doughnuts aren't your thing, Donut House also offers delicately crafted cream horns and toothsome little Danishes.