As frozen as those collagen lips.
When Gut Check spied an ice cream van pulled to the side of the road near the office, we were hit with a wave of nostalgia and decided to indulge in a childhood favorite -- the cartoon character ice cream bar. We devoured many an ice cream Ninja Turtle in the early '90s. Few products bring back summertime memories as strongly as blue lips, sticky hands, and the cardboard taste of those bubblegum eyeballs.
Twenty years later, the frozen novelties are still around but heroes in a half-shell are out of style. These days it's Batman, Bugs Bunny, and Bratz, Barbie's slutty rival. Curious, we went with the latter.
Under the wrapper, however, we found Mizz Bratz in some distress.
Though Leonardo and Donatello were always pretty recognizable in popsicle form, a more recent history of scary popsicles seems to point to declining quality assurance at the ol' Blue Bunny factory. Boing Boing co-editor Mark Frauenfelder has been covering the beat since he bought this psychotic Tweety Bird pop for his kid, then discovered a nightmare SpongeBob SquarePants in June. There's also Very Surprised Batman and this mutant Sonic the Hedgehog.
But Bratz pop has her own special issues. For the uninitiated, Bratz is a heavy-lidded doll who wears chunky heels, teensy skirts, and has the beestung lips of Jocelyn Wildenstein.
Here's what Bratz is supposed to look like in popsicle form:

And here's what you actually get: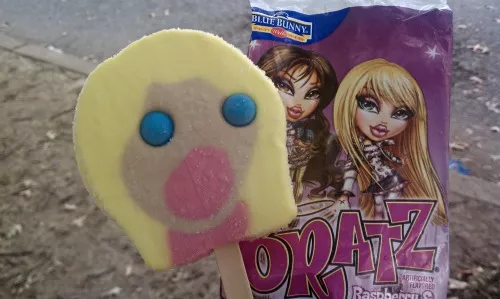 That's right, what appears to be a dead-eyed little girl screaming in horror. It kind of makes sense -- she was created for the sole purpose of little kids going all bath-salts on her and eating her face.
In fact, once Gut Check started eating, her expression was disturbingly apt: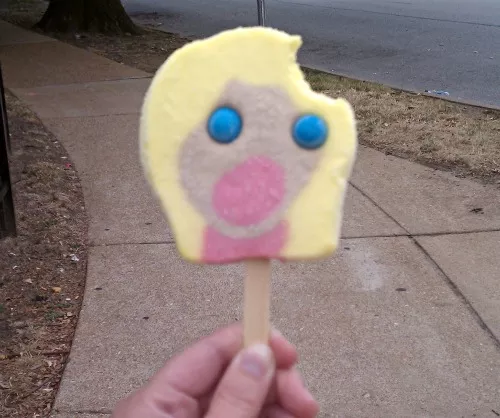 "Please! I wanna go home!"
For the record, screaming Bratz doll was delicious.