RFT photo
Sappington Farmers' Market will soon close.
Sappington Farmers' Market (8400 Watson Road, Marlbourough; 314-843-7848) announced last week that it will be closing permanently on Friday, August 24. When Gut Check called the market on Friday afternoon, the manager on duty (who asked that his name be withheld) informed us that the official announcement would come Monday morning. A few bare shelves and a sign on the door announcing that the market's hours will change were the only visible indicators that anything was amiss.
Over the weekend, a tipster forwarded to Gut Check an email that Sappington Farmers' Market's owners sent to those on its mailing list. The letter reads as follows:
To our Valued Customers & Supporters:

After years of operating as a food market specializing in locally produced food and produce, Sappington Farmers Market will close on August 24th. We have put a lot of blood, sweat and tears into making this market a success since purchasing its assets out of bankruptcy earlier this year.

Unfortunately, declining sales, outdated equipment and competition from larger markets in the neighborhood have made continuing operation impossible. We gave it our best shot and thank our employees and customers who have been loyal until the end.

Our company, Impact Funders, remains dedicated to our mission of making locally produced food available to consumers in the St. Louis area. We will continue to offer these products through our Farm to Family food brands and our local distribution operation.

We are also committed to continuing to look for opportunities for other store locations in the region and trust our customers will find us in a new location in the not-too-distant future.

Sincerely,

Your friends at Sappington Farmers' Market
Following are pictures of the market's interior during Gut Check's visit on Friday afternoon.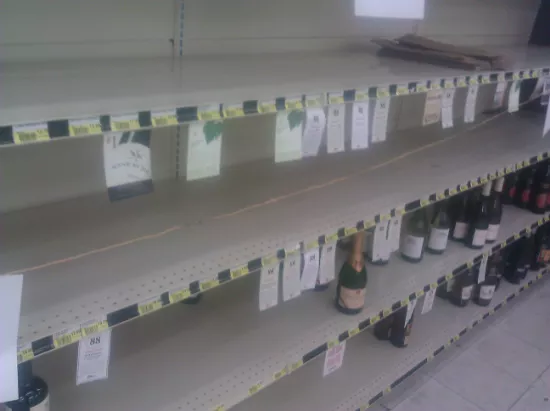 Kevin Cronin
Empty shelves line Sappington Farmers' Market.