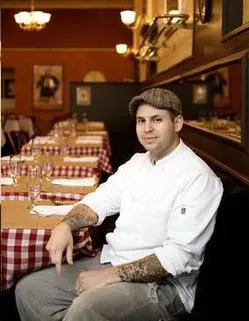 Jennifer Silverberg
Chef Gerard Craft
In June 2011, Gut Check reported that Gerard Craft's next restaurant would be Pastaria by Niche, and in January Craft announced that the restaurant -- along with flagship Niche -- would be moving into the Centene Plaza office tower at Hanley Road and Forsyth Boulevard in Clayton. Now it seems the forthcoming St. Louis restaurant will be named Pastaria, and Eater has named it one of "The 33 Most Anticipated Restaurant Openings of Fall 2012." According to Eater, Pastaria is scheduled to open in September.
Meanwhile, the original Tin Can Tavern & Grille (3157 Morgan Ford Road; 314-865-3003) in Tower Grove South still seems to be shuttered, despite plans to reopen this week.
Within one week of Tin Can's downtown location closing in June, it announced a temporary closure of the Tower Grove South location, with a projected reopening date of Monday, August 6. At the time a sign outside of the restaurant claimed it would return "bigger & better," but as we learned after a bit of research, the property was (and still is) listed for sale.
Calls to Tin Can went straight to the restaurant's voicemail system, which might be a slight development, as no such voicemail system existed immediately after its closure in July.