Coverage of the Olympics is undeniably family-friendly programming, especially as the weekend wanes on Sunday evening. It's also when Ragù chose to air a new commercial, which features a young boy walking in on his parents having sex. Later, at dinner with his parents, said lad eats a plate of pasta smothered in Ragù, staring ahead with the dead-eyed calm of a child who has just become a bit more of an adult -- an adult who will probably become a serial killer.
On Sunday, August 5, Ragù debuted the commercial, which totes the tag line, "A Long Day of Childhood Calls for America's Favorite Pasta Sauce." Gut Check suggests that a more kid-friendly example of a long day of childhood might be the very event viewers tuned in to see that night -- sixteen-year-old gymnast McKayla Maroney competing in the vault final. Apparently, Ragù attaches a different kind of nostalgia to coming of age. Watching your parents do the nasty is what the company wants you to think about when ladling its hot, steamy sauce on your noodles and meatballs.
The jingle attached to the commercial unfurls, with a country twang, the following narrative:
"Parents in bed, but it's just eight o'clock/That's why they taught you, you should always knock/He needs Ragù/Cause growin' up's tough/Give him Ragù/He's been through enough."
More than anything, Gut Check finds the commercial confusing. Offensive? Well, we're not sure. Are we supposed to be offended? If the aim is to persuade parents to teach their children to eat their feelings, sorry to say Ragù is way, way late to that party.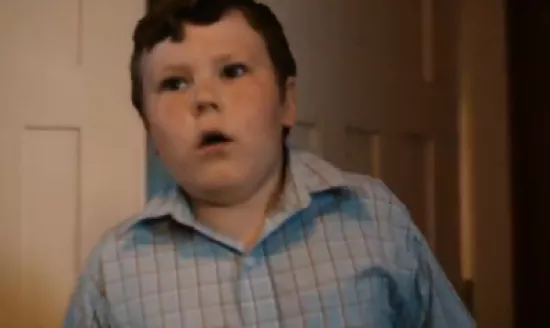 Image via
His world will never be the same, but as long as there's Ragù for dinner, he'll survive.
McDonald's taught us years ago that we'd always have a friend wearing big red shoes, even if the rest of our friends abandoned us over concerns that we're going to die morbidly obese on a couch. Ultimately, Ragù, this is probably not a yarn food corporations should spin. If not because of its weird suggestion of food as forgiveness for childhood trauma, then simply because of the uncomfortable questions it surely rouses in young 'uns.
As if the blow of a weekend ending isn't enough to deal with, parents across the nation now have to answer, "What did the boy see in his parents room, Mommy and/or Daddy?" The answer no doubt required a form of verbal gymnastics that won't win aggravated parents a gold medal, but very well might lose Ragù more than a few customers.