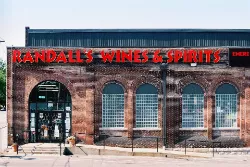 Randall's Wine and Spirits will soon open shop in west county.
Five-hundred vodkas, 800 craft beers, over 1,300 different wines and more spirits than Gut Check can count are coming to west county on August 26 when Randall's Wine and Spirits (1910 South Jefferson Avenue; 314-865-0199) opens its newest location at 14201 Manchester Road (at the intersection with Highway 141) in Manchester. Randall's claims the title of being St. Louis' number one package liquor store as well as being the largest liquor store in Missouri. The recipient of numerous local and national awards -- including being named Best Liquor Store by the RFT in 2007 -- owner George Randall remains humble about his booze empire, which now stretches from west county to south city to north county and Fairview Heights, Iliinois.
"I've been very blessed by the people around me, particularly my wife, Sherry, my employees and my customers," Randall says. The new 1,200-square-foot facility boasts the same expansive selection of hooch and brew, top-notch customer service via Randall's knowledgeable staff and the same low prices that make its other locations staples in their respective communities.
Of course, there are some new offerings lined up for the west county location that set the store apart from its sister shops, including a wine and spirit tasting bar that Randall expresses excitement about.
Naturally, Gut Check wondered if the low prices at Randall's that we've come to love, trust and budget accordingly around would also make the drive out west. Randall assured us that his company remains committed to providing its customers with the lowest prices in St. Louis. "We're competing with stores like Wal-Mart and CostCo, and we're going to cream them on prices," Randall says.
Whew, says Gut Check. Randall also emphasizes the importance of his staff understanding its products and that the west county team is no exception. "We do wine tastings and liquor demos on a regular basis to educate our staff as well as our customers," Randall says.
But according to Randall, affordable prices and dedicated customer service are just part of the equation. "Other stores can boast great prices or first-class service," he says. "But we have something they don't. Our stores are fun."
Pops of personality and interactive elements include wax figures that customers at Randall's can pose and snap a picture with or the collection of vintage cars and scooters displayed for viewing next to its seemingly endless racks of wine, suds and booze. "We want our customers and our employees to enjoy themselves every time they come in," Randall says.