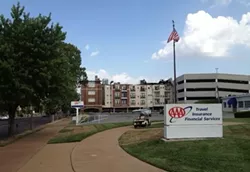 Ian Froeb
The fire at 3949 Lindell forced two restaurants to close.
July was a relatively quiet month for openings, with several smaller restaurants debuting in St. Louis County, and only a couple of new ventures opening in the city.
Perhaps the biggest story of the month was the number of temporary (in theory, at least) closings. The fire in the apartment building at 3949 Lindell Boulevard in the Central West End forced two restaurants, Desserts on the Boulevard and J. Gumbo's, to seek new homes, while a separate fire closed the newly relocated Yummies Soul Food Cafe. The fate of the Tin Can Tavern & Grille in south city also remains in the balance.
The complete list of openings and closings is after the jump. As always, please let us know in the comments if we missed something.
Openings
Curbside Cookery (@CurbsideCookery; 314-303-6521) [food truck] Dog Town (2182 North Highway 67, Florissant; 314-830-1457) The Egg & I (11692 Manchester Road, Des Peres; 314-821-3447) Frida's Deli (622 North and South Road, University City; 314-727-6500) The Gobble Stop Smokehouse (1227 Castillons Arcade Plaza, west St. Louis County; 314-878-5586) The Livery Company (3211 Cherokee Street) Mama Carlie's BBQ (742 South Fourth Street; 314-621-4227) Sushi Sake (4418 Lemay Ferry Road, south St. Louis County; 314-892-8188)
Page through to see the closings, both permanent and temporary.
Closings
Gyros in the Loop (571 Melville Avenue, University City) Murdoch Perk (5400 Murdoch Street) Pi on the Spot [food truck] Selam Ethiopian Cuisine (549 Rosedale Avenue) Tee's Golf Grill (103 Chesterfield Valley Drive, Chesterfield; 636-489-2848)
Temporary Closed
Desserts on the Boulevard (3949 Lindell Boulevard; 314-533-3377) J. Gumbo's (3949 Lindell Boulevard; 314-456-1235) Tin Can Tavern & Grille (3157 Morgan Ford Road; 314-865-3003) Yummies Soul Food Cafe (2800 Olive Street; 314-226-9800)
Renamed
Patrick's Restaurant & Sports Bar (342 Westport Plaza, Maryland Heights; 314-439-0505) [formerly St. Louis Sports Hall of Fame Bar & Grill]