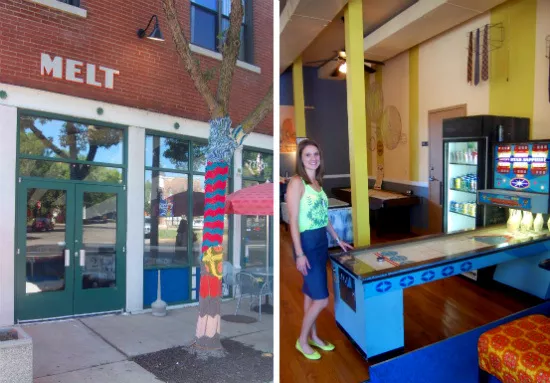 Liz Miller
The exterior of Melt (left) includes several yarn-bombed trees. Melt general manager Britt Bauer (right) about to play a round of Skee-Bowling in the cafe.
On the southern tip of the south Carondelet neighborhood of St. Louis sits the Patch, a quiet collection of streets in south city not far from the Mississippi River. On Tuesday, June 12, Melt (7700 Ivory Avenue; 314-638-6358) became the latest addition to Patch, the newest tenant of neighborhood residential and commercial property management company Steins Broadway, which also rent to nearby Perennial Artisan Ales (8125 Michigan Avenue; 314-631-7300) and Halfway Haus (7900 Michigan Avenue; 314-256-0101).
Melt general manager Britt Bauer describes the combination coffeehouse, cafe and bar as a destination location: a creative, interactive space unlike any other in the city. Bauer says the menu at Melt will evolve as the cafe grows, but its current selection of specialty waffles, ice cream, smoothies, coffee drinks (spiked coffee drinks are available, too), cocktails and beer offers something for everyone at any time of day.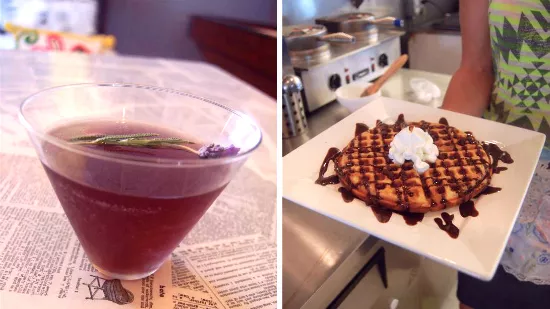 Liz Miller
The "Doll Parts" lavender martini ($6) and "Knockout" waffle ($6) at Melt.
Waffles, like most things at Melt, go above and beyond expectation. There is the "Knockout," made with Ghirardelli cocoa batter, mini chocolate chips and drizzled with fudge; and the "Violet Beauregarde," a classic blueberry waffle with whipped cream; the "Sweet Dee" comprised of peanut butter and chocolate; the "Granny," a blend of apple pie and cinnamon; and of course the "Haus" waffle, served plain with syrup. (All waffles are $6 and can be made gluten-free.) The fluffy, bright texture and taste of Melt's waffles comes courtesy of Pint Size Bakery (3825 Watson Road; 314-277-0882), which is where the cafe buys its batter.
Before joining the Melt team, Bauer spent years studying art and working in Art City at the City Museum. "Working at the City Museum had a big part of making me think about art and business interacting," Bauer says. A three-year stint working in glass-blowing in Portland, Oregon broadened Bauer's approach to art and business - and sharpened her food and drink prep skills, thanks to a handful of barista gigs. Several menu items at Melt reflect Bauer's time in Portland, including the "Doll Parts" lavender martini and the "Hwy. 101" whiskey orange press. (Both $6.)
"I would go to bars [in Portland] for the lavender martini, get one drink and then leave. It was all I wanted. The whiskey orange press I also brought back from there, hence [the] name Hwy. 101," she says. Brews at Melt include the "Brown Bagger," Pabst Blue Ribbon served in a brown paper bag ($1.50) and the "750," Perennial Artisan Ale's seasonal beer ($11). The cocktail menu -- or hooch menu as Melt calls it -- features tipples such as the "Nickle Sack," gin and juice ($4); the "Ninja," chocolate martini ($6); and the "Mia Wallace," shake and bourbon ($5).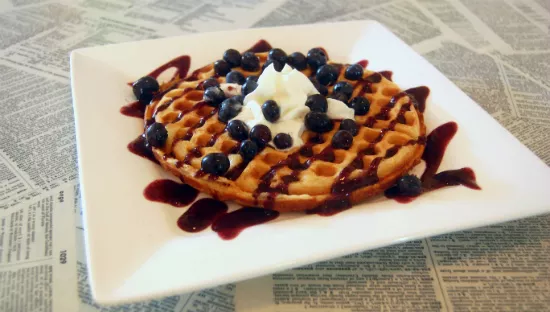 Liz Miller
The "Violet Beauregarde" waffle ($6) at Melt is classic blueberry with whip cream.
Like its eclectic, inventive menu, the decor and ambiance at Melt is nothing short of distinctive. Designer and stylist Jenny Baca, owner of Jipsi Boho, transformed the space Melt occupies with a fresh, bright aesthetic balanced by vintage finds, upcycled furniture and decor that is at once modern yet timeless. The welcoming, well-curated interiors that Baca creates are no stranger to Bauer, who came to Melt by way of the designer, who she previously interned with. Bauer describes the art and installations at Melt as interactive, and emphasizes how important interactive art is to a creative space.
"It's so much more engaging...you remember interactive art," says Bauer. "When you come across a piece of art, you interact with it -- maybe only for a few minutes, mentally, not physically -- and then you walk away from it. If it was impactful enough, then it residues in your mind. We feel like anything that is interactive is much more memorable."
And being an interactive, connected community space is something Melt is aiming for. Plans are in the works to host live music in the expansive cafe, and it's chock-full of games for patrons to enjoy including Pac-Man, three pinball machines, shuffleboard, Skee-Bowling and scads of board games.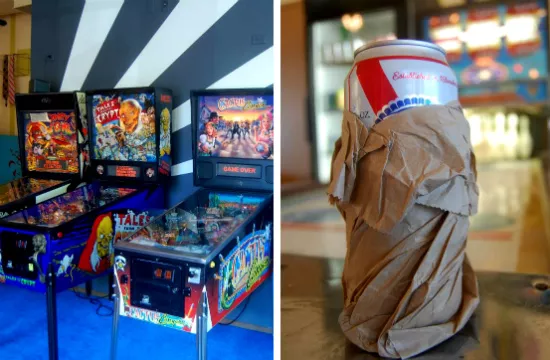 Liz Miller
Games at Melt (left) include pinball machines, shuffle board, arcade bowling and many, many board games. The bar serves cans of Pabst Blue Ribbon in paper bags (right) .
For now, the team at Melt is excited about growing with its neighborhood and offering a space unlike any other in Patch. Bauer says she's working with the Carondelet Community Betterment Federation and looking forward to participating in an upcoming mural project in the area.
"I have this philosophy about patchworks, how each patch is its own element," says Bauer. "Some are ugly as sin, some are really bad, itchy, uncomfortable fabrics, some are really beautiful, soft. When they stand alone they are what they are, but together they make a weird, beautiful blend. When I first moved to this neighborhood I thought it was Carondelet, and they told me it was actually Patch. I think Patch goes a long way. I think it's interesting and awesome that this neighborhood is reflective of its name."
Melt is open Monday through Friday from 8:00 a.m. to 10:00 p.m., Saturday from 8 a.m. to 11 p.m. and Sunday from 8 a.m. to 8 p.m. For more information about Melt, call 314-638-6358 or visit its Facebook page.