"Can Taco Bell Do Gourmet?" and "Think Taco Bell Can't Do Gourmet?" are questions scrawled across promotional materials for Taco Bell's new Cantina Bell menu. As Gut Check reported in July, Taco Bell introduced its new menu in stores nationwide on Thursday, July 5. It was no surprise when, days after its release, Karl Welzein, a.k.a. @DadBoner, summarily rejected the Cantina Bowl -- though he's a fan of bold flavors for sure, he never much takes to anything aimed at "evolving palettes."
Despite @DadBoner's disdain, Gut Check was still compelled to try the Cantina Bowl and discover how it compares to Chipotle Mexican Grill's burrito bowl. For research purposes, this comparison seemed the most natural, as the marketing of Taco Bell's Cantina Menu smacks of the same buzz-word language and trendy ingredients pioneered to the fast-casual-dining masses by Chipotle.
The Contenders Gut Check International Headquarters just happens to be conveniently located within walking distance of a Chipotle Mexican Grill (6316 Delmar Boulevard; 314-678-3200) and a Taco Bell (851 North Skinker Boulevard; 314-863-3315), which made short work of procuring the bowls, if not extended work of our lunch hour.

Liz Miller
A chicken burrito bowl from Chipotle Mexican Grill (left) and a Cantina Bowl Chicken from Taco Bell (right).
Though our proximity to both stores is undeniably convenient, we understand that locating a Chipotle, not only in the St. Louis area, but elsewhere in the Midwest, can be a challenge. Sad, empty and lurching were the years before Chipotle finally built its first restaurant in St. Louis. Alternatively, we're never far from the glowing signage of a Taco Bell, which we admit, is a factor to consider. Maybe the Cantina Bell fairly holds its own against Chipotle burrito bowls, but even if it's slightly less tasty, its omnipresence surely counts for something.
A closer examination of Taco Bell's "Cantina Bowl Chicken" and Chipotle's chicken burrito bowl immediately yield a few distinguishing differences. To Gut Check's surprise, the "Cantina Bowl Chicken" clocks in at 560 calories, and, not to Gut Check's surprise, costs $4.79. At Chipotle, a chicken burrito bowl sets your caloric intake and wallet back a bit more, registering at 685 calories for $6.25. We're not overly concerned with dissecting the minimal 125 calorie difference between the two bowls, but the $1.46 price gap, well, certainly. If the "Cantina Bowl Chicken" comes close to the flavor and freshness of a Chipotle burrito bowl, we're likely to be new converts.
Meanwhile, the language and ingredients do, at least in Taco Bell's marketing of the Cantina Bowl, seem to eerily mirror Chipotle products. According to Taco Bell, the "Cantina Bowl Chicken" piles, "...our new citrus-herb marinated chicken, flavorful black beans, guacamole made from real Hass avocados, pico de gallo prepared fresh daily, roasted corn and pepper salsa and a creamy cilantro dressing" on a bed of cilantro rice. The build-your-own burrito and/or bowl model at Chipotle means Gut Check approximated like ingredients from its menu to create a similar bowl from Chipotle including cilantro-lime white rice, vegetarian black beans, adobo-marinated and grilled chicken, guacamole, corn salsa and pico de gallo salsa -- as a side note, opting out of cheese, sour cream and fajita veggies and paying $1.80 extra for guacamole for this experiment further turns the knife in that $6.25 (make that $8.05) wound. The Verdict First, pictures speak louder than words, or something:
The "Cantina Bowl Chicken" marketed by Taco Bell.
Liz Miller
The "Cantina Bowl Chicken" Taco Bell sold to Gut Check.
Not that most fast-food usually resembles its shiny, larger-than-life promotional photo, but good grief Taco Bell, this disconnect borders on the egregious. Upon opening our "Cantina Bowl Chicken" we were disappointed to see that it was mostly white rice and corn, with shreds of lettuce and chicken strewn about the plastic bowl, topped off with an ice-cream scoop-sized dollop of guac that tasted more sour cream-based than "made from real Hass avocados." The chicken also left a lot to be desired. Instead of hearty, flavorful strips of grilled chicken, the meat folded into our "Cantina Bowl Chicken" was stringy, limp and absent of even a hint of "citrus-herb marinate." It was immediately clear why, from placing our order at the Taco Bell drive-thru to receiving our plastic bag of food at the window, it only took Taco Bell three minutes to "prepare" our "Cantina Bowl Chicken."
As an additional, ahem, kick-in-the-pants, the "Cantina Bowl Chicken" did not agree with Gut Check's constitution, which is to say, it didn't agree with a constitution that coolly digests McGriddles for breakfast. After recovering from the "Cantina Bowl Chicken" we ventured to Chipotle for a chicken burrito bowl, a meal we're all too familiar opting for on our lunch hour in lieu of the peanut butter and jelly sandwich we brought from home. First, fair is fair: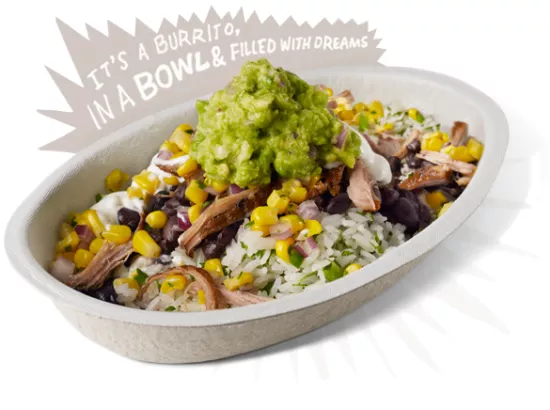 The burrito bowl marketed by Chipotle.
Liz Miller
The chicken burrito bowl Chipotle sold to Gut Check.
Sure, adding gauc to a chicken burrito bowl at Chipotle ups the price to $8.05, which is almost double the cost of Taco Bell's "Cantina Bowl Chicken," but in the end, if you've got it, it's $3.26 well spent for a superior product. Maybe it's that Chipotle truly does prepare its ingredients fresh, from scratch, and doesn't rely on microwaves to heat its meat and vegetables, but the disparity of quality and taste between a chicken burrito bowl at Chipotle and a "Cantina Bowl Chicken" at Taco Bell marks a chasm so deep even Gut Check is shocked. After all, it's all just varying degrees of fast-food, right?
Where the ingredients in the "Cantina Bowl Chicken" miserably fail, the chicken burrito bowl at Chipotle succeeds: The guacamole is fresh, tangy and tastes like avocados, the flavor and texture of the cilantro-lime rice and adobo-marinated and grilled chicken are evident and the pico de gallo retains a crispness that suggests it was made fresh today -- a claim the "Cantina Bowl Chicken" makes but doesn't deliver.
Despite its lower price and convenience factor, the "Cantina Bowl Chicken" loses in a fair fight with Chipotle's chicken burrito bowl. And it didn't make us sick. That's a huge advantage for Gut Check, too.