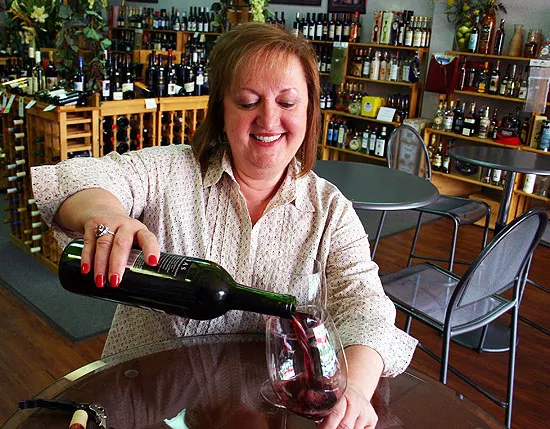 Katie Moulton
Kata Lozina inside Kaya's Import Wine & Spirits
Kaya's Import Wine & Spirits (4117 Union Road, south St. Louis County; 314-894-0007) closed after ten years this weekend. "Let's blame it on the economy," owner Kata Lozina tells Gut Check, with a sigh.
As Gut Check learned when Katie Moulton profiled Lozina and Kaya's last May, the store filled a niche in St. Louis' wine and liquor scene:
Lozina, born in Bosnia of Croatian descent, grew up in South County, and when she returned to St. Louis after living in Florida, she knew she wanted to base her business in the underserved community she was familiar with.
In addition to hundreds of wine selections, Lozina specializes in wine and liquor from Eastern Europe. Bilingual Lozina doesn't always have firsthand knowledge of the products requested by her eastern European customers, but says she tries to carry the unusual, hard-to-find products and replenishes her selections every week.

"When people walk in here, I want them to immediately feel comfortable and not intimidated," Lozina says. "If you don't know jack about wine, I'm not going to try to impress you with how much I know. It's very simply about what's in the glass, and do you like it?"

Now open for nine years, an enthusiastic community has sprung up around her shop, with regulars who frequent her free Friday night wine tastings. One group, who met and became friends through the shop, call themselves Kaya's Konnection, and together with Lozina, have raised more than $30,000 for Friends of Kids with Cancer.