Diana Benanti
Inside Growlers Pub in Sunset Hills
Matt Bowler thought he had the perfect birthday present for himself. The St. Louis native, who turns 28 this week, only needed to try twelve more beers to complete his "beer card" of the 133 beers available at Growlers Pub (3811 South Lindbergh Boulevard, Sunset Hills; 314-984-9009).
"I've been going to Growlers for several years now, ever since my cousin introduced me to the whole beer card system," Bowler says. "I've drank beer with my brothers [there] on a somewhat regular basis, so we all appreciate beer and food, just like most people."
A couple of weeks ago, Bowler paid Growlers a visit to get a head start on completing those last dozen beers before his birthday.
"They brought out the [beer] menu and it was just a table-topper -- it wasn't the book with all the explanations of [beer] styles," Bowler explains. "It actually looks like they cut out a third of the beer selection. There were 33 drafts [now] and maybe the same number or maybe a little less of bottles."
Growlers' food menu was also quite different. A selection of salad, sandwiches, flatbreads and grilled entrées had replaced the familiar pub fare.
When Bowler inquired about the changes, he says, "They didn't give [me] a whole lot of information about why it had changed, just there was new management."
(Gut Check has attempted, without success, to reach Growlers Pub's general manager for comment on the changes. We'll update this post when we do.)
After this visit to Growlers, Bowler decided to take action.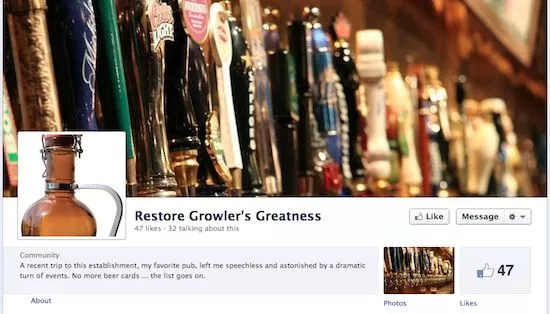 Bowler created a page called "Restore Growler's Greatness" on Facebook. Here he posted a summary of his experience at Growlers, which in various forms he has also posted to the Growlers Pub listing on both Riverfront Times' Voice Places and Yelp. An excerpt of the summary captures a cheeky tone masking a serious intent:
Growler's is, nay, was a strikingly bold bullet point atop the Beer Lovers list of places to emerse themselves in the glory of a quality selection of brews from around the world while reaping the rewards as one completed different stages along the way. I walked past the wall of name cards displayed to honor those who hit the first mark of 25 beers from the list of 132 and spotted my name. It was a striking blow that hit hard and I couldn't help but feel the bedrock of my initial appreciation for brew crack beneath the weight of such devastating change.
As of this writing, the page has received 47 likes from Facebook users.
"There've been several people I don't know who've liked the page, and I'm not sure how they found it," adds Bowler.
"One of them actually posted on the page with her story how she found out about Growlers and got her [beer] card. It just seems like it's impacting people on one way or another."
A second post on the Restore Growler's Greatness page claims that Growlers Pub had deleted a negative comment that someone had posted on the restaurant's own Facebook page. In reporting this article, Gut Check did view several negative comments about the changes on the Growlers Facebook page. However, when we returned to the page this morning, we could no longer locate any of those comments.
"The reality of things, it's not a huge, life-changing event," Bowler admits. "There's a ton of bars and stuff in St. Louis. There's no shortage of places where you can go get a beer. But there was something different about Growlers."