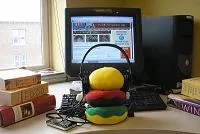 Gut Check dishes on our favorite St. Louis food blogs.
A Veggie Venture: Alanna shared how to cook corn in a beer cooler.
Every Little Thing: Stacy made roasted summer veggie enchiladas.
Sounding My Barbaric Gulp: Kelly shared buttermilk panna cotta with red berries in hibiscus syrup.
Cupcake Project: Stef made bananas foster gelato.
The Sweets Life: Natalie shared Asian turkey lettuce wraps.
Iron Stef: Stef made watermelon chickpea salad with mint and jalapeno.
Bruno's Dream: Bruno shared cherry gelato with dark chocolate and roasted hazelnuts.
Sauce magazine's blog: Stacy made baked eggs with spinach and feta from cookbook Fresh & Easy: What to Cook and How to Cook It by Jane Hornby.