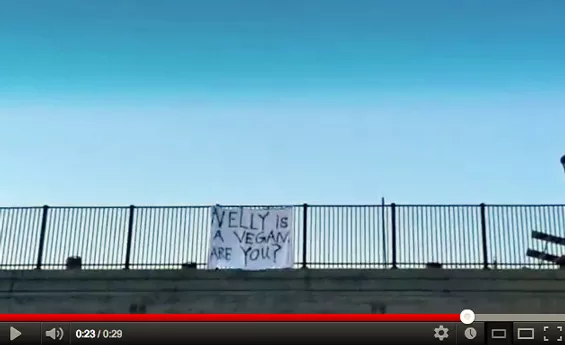 Yes they did! Vegan activists know Nelly's not one of them, but apparently all's fair in love and banner drops.
Disclaimer: While Gut Check's modus vivendi might be summed up succinctly as "live and let live (or die)," some of our best friends are vegans. Oh, and no animals were harmed in the writing of this blog post.
As morning commuters might have noticed, early yesterday vegan activists staged a "banner drop," draping pro-vegan messages from overpasses that cross well-traveled routes around St. Louis, most of them within the city limits.
"Vegan for the Animals," reads one spray-painted bedsheet. Another says, "Be Kind, Go Vegan."
St. Louis Vegans, a local activist group, issued a press release yesterday stating it "received an anonymous e-mail" claiming responsibility for the drop. St. Louis Vegans also posted a shaky 30-second YouTube video depicting the hand-lettered signs and listing each location.
* "Vegan for the Animals" I-64/40 westbound at Tamm Avenue * "Animal LIberation" I-64/40- eastbound at Hampton Avenue * "Be Kind, Go Vegan" @ South Kingshighway at Connecticut Street * "Nelly Loves Vegans. Are You One of Us?" @ I-55 southbound at Reavis Barracks Road * "Nelly is a Vegan. Are You?" @ I-70 eastbound at St. Louis Avenue * "Veganism & Justice for All" @ I-44 eastbound at Jamieson Avenue
According to the press release, the activists explained in their e-mail that they wanted people to think about the choices they make regarding what they eat:
"We dropped six homemade banners tonight to make people think about their choices -- because too often those choices lead to immeasurable suffering and death," the e-mail reads in part. "Veganism is a straightforward way to end the cruelty humans inflict on non-human animals, and we want to tell the public exactly that."
In the press release, St. Louis Vegans founder Alexandria Graff expresses her support for the banner drop. "Animal exploitation is vast, egregious and perpetuated by a lack of thought about the lives it costs," Graff states. "Any effort to raise awareness to end this injustice is an effort we support."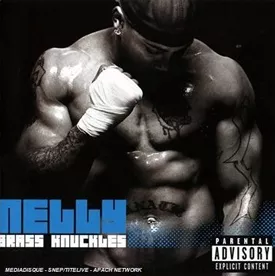 Nelly, ripped (and NOT vegan)
Graff tells Gut Check that she received the e-mail very late Tuesday night. "I was excited to see people doing this kind of thing," she says. Asked whether she has considered the possibility that the drop and the e-mail might have been orchestrated by members of her own group, she says he has no way of knowing, and adds that she personally did not stage, plan or otherwise participate in the guerrilla bannering.
Regardless who pulled the stunt, the references to hip-hop star and University City native Nelly are puzzling. In a video interview dating back to 2008, Nelly told BodyBuilding.com he had been a vegetarian up until filming the 2005 remake of The Longest Yard, when he added poultry to his diet to help bulk up. But as the activists themselves acknowledge in their e-mail, "Some of our banners state that Nelly is a vegan. We know he's not. But with his upcoming concert in town, we knew this would be one way to draw attention to our message. We hope Nelly will not only address this claim, but will maybe even take the opportunity to educate himself and his fans about the ethics of veganism."
They lost Gut Check at "We know he's not." Anyone care to explain how lying about a celebrity's support for your cause is a good PR move?