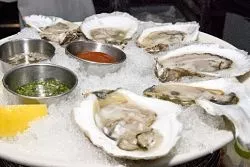 Is this not a welcome sight on a hot day?
Remember paragonamiasis? It's a rare disease caused by eating raw crawfish, also known as Ozark sushi. It's pretty gross. When Riverfront Times reported on it last summer, it was noted that a lot of sufferers from paragonimiasis contracted the disease while on drunken float trips in Missouri's rivers.
"Well," some of you may have sniffed, "that will never happen to me because I am too refined to pull a raw crawfish out of some stinking river and eat it because someone dared me to. Do I look like some drunken dumbshit?"
And yet...how many of you continued to eat oysters?
Yeah. We thought so.
The St. Louis City Department of Health issued a warning last week about an outbreak of vibriosis, another bacterial infection, this one spread by consumption of raw oysters.
The good news, says Gena Terlizzi, a public information officer for the Missouri Department of Health and Senior Services, is that there have only been three cases of vibriosis this year, one in St. Charles County and two in St. Louis County. All three patients ate the same type of raw oyster, a Foley Blue Point Oyster. Before that, the last vibriosis outbreak in Missouri was in 1996. This is because Vibrio parahaemolyticus, the bacteria that cause vibriosis, tend to live in coastal waters.
Unfortunately, the bacteria don't alter the taste or appearance of the raw oysters. The only way to tell if you've gotten vibriosis is if, after between 4 and 96 hours after eating raw shellfish, you start to experience what doctors delicately refer to as "gastrointestinal distress": nausea, vomiting, diarrhea, cramps and, in really severe cases, fever and low blood pressure. The good news is that vibriosis doesn't get serious unless your immune system has already been compromised -- if you have liver disease, diabetes or a peptic ulcer.
You can find out if you have vibriosis by presenting your friendly doctor with a stool sample. (They'll be thrilled to see it, Gut Check promises!) Then you can get antibiotics. Or you can just wait for the runs to, uh, run their course. It's not nearly as bad as paragonimiasis. However, because it's considered extremely respectable to eat raw oysters (think of how much some people pay for the privilege!), contracting vibriosis is not nearly as embarrassing as paragonimiasis. It's also far more rare.
If you want to be sure not to get vibriosis, Terlizzi recommends refraining from eating raw oysters altogether. But because only three people have gotten it in the past sixteen years, and because it sounds far less worse than a basic case of food poisoning, Gut Check is going to say, to hell with that! Also, we really want some oysters now.