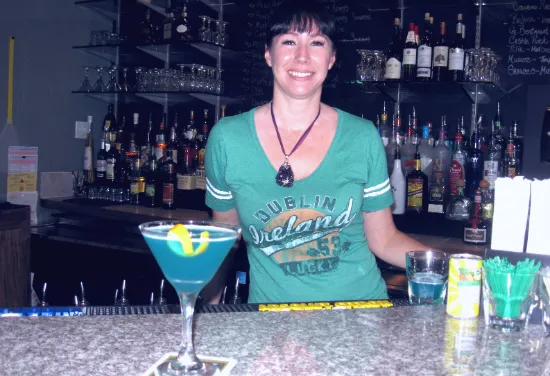 Alice Telios
Sassy JAC's bartender Laura O'Connell
This week, I visit Sassy JAC's (1730 South Eighth Street; 314-932-1280), a new Soulard restaurant and bar that features Southern fare. A sneak preview of review is after the jump.
For lunch at Sassy JAC's amid the Inferno of '12, I ordered maybe the last food any sane person would want to eat during a heat wave: fried chicken topped with gravy. I told myself I didn't have a choice. Sassy JAC's offers its fried chicken only on Wednesday, and this particular afternoon was my last chance to try it before writing this review. If that meant curling up under my office desk all afternoon in a stupor -- well, let's just say it wouldn't be the first time.

I needn't have worried. The chicken was a single boneless breast, lightly battered and deep-fried to a gnarled, golden-brown crisp. The gravy ladled over it wasn't the gluey, white country variety (à la chicken-fried steak) but a sauce the color of autumn wheat. The gravy starts with roasted chicken and aromatics and is then simmered overnight; to this is added a classic roux of butter and flour with thyme, salt, both black and white pepper and, at the end, just a touch of heavy cream. It deepens the flavor of the meat without weighing it down.
Visit Gut Check tomorrow to read the entire review and see Jennifer Silverberg's slideshow of Sassy JAC's.
Related:
"Sassy Jac's Laura O'Connell: Featured Bartender of the Week" (June 26, 2012)