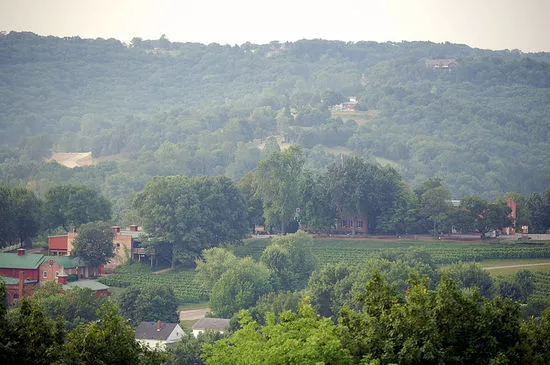 Stone Hill Winery (lower left) in Hermann
St. Louis Public Radio reported this week that heat-ocalypse 2012 is "good news for Missouri winemakers." Not so, says Jon Held, vice president of Stone Hill Winery (1110 Stone Hill Highway, Hermann; 800-909-9463). Those precious booze-making grapes aren't exempt from the sweltering heat that has shriveled crops across the Midwest.
"A lot of the state's vineyards are unirrigated," Held says, including most at Stone Hill. "We're very concerned about how things will turn out this season."
Popular notions about winemaking suggest that hot, dry years with lots of sunlight trigger sugar production, leaving growers with sweet grapes. But triple-digit temperatures can be downright destructive, Held says. No one wants to wake up to a vineyard of raisins.
Robert Miller, owner of Röbller Winery (275 Röbller Vineyard Road, New Haven; 573-237-3986) predicts that his crop might be a little smaller this year owing to excessive heat so early in the season.
"We've seen some sunburn on the fruit, but we haven't lost any yet," Miller says. Miller and his staff have been watering the young plants with irrigation equipment, but like many local wineries they haven't invested in costly full-on irrigation equipment.
"We have seventeen acres [of vineyards] here, so it would probably cost us $35,000, maybe even $40,000, to keep the whole thing irrigated," Miller explains, adding that most other years they wouldn't need to make that investment. "But when it gets like this, it sure would be nice to have it."
While sunlight may sweeten grapes, Held says it's too early in the season for the sun to impact flavor. These babies still need to grow, and excessive heat generally delays the photosynthesis process, pushing back harvest and hampering growth.
"It's not that simple," Held says of manning a successful vineyard. "There are lots of variables that come into play, lots of things that need to come together for this to work."