Rease Kirchner
The chicken wings with a "Pineapple Upside Down" cocktail at Soho.
Soho Restaurant and Lounge (4229 Manchester Avenue; 314-932-5554) opened its doors only a couple of months ago, but it has already begun to make a name for itself. The restaurant and club is situated in the heart of the Grove. Owner Brandon Storman was originally looking at properties in the Delmar Loop, but when he found the large, vacant building in the Grove, he jumped at the chance to start from scratch. "We drew up the plans and took the cheaper rent," Storman chuckles.
The decision seems to be working out. Soho's interior is simple, classy and gives the lounge a laid-back yet sophisticated vibe. On Gut Check's visit, we took note of Storman's attention to detail. "I'm kind of a perfectionist," he says with a hint of embarrassment. Storman also spoke highly of the Grove neighborhood in general: "The neighbors in the area have been fantastic," says Storman. "I see all the different bars, and there are just so many things for everybody.... This area is really growing."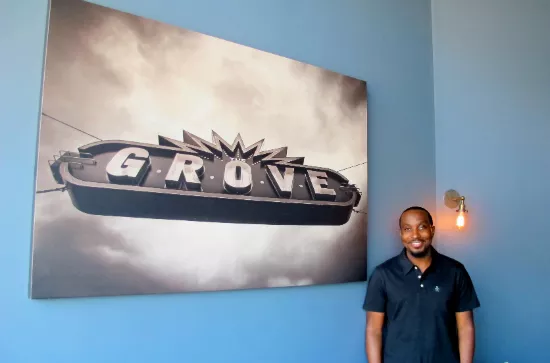 Rease Kirchner
Soho Restaurant and Lounge owner Brandon Storman.
The name "Soho" is derived from "Southern hospitality." Although Storman was born and raised in St. Louis, he really respects the philosophy of making customers feel like a welcome part of the family, whether it's through heaping servings of comfort food or through friendly employees that enrich the dining experience. "The executive chef is my cousin, and the other chef is an old childhood friend," Storman explains. When Gut Check commented that Soho sounds like a true family business, Storman laughs and adds, "That busser over there is my cousin, too."
The menu at Soho is filled with comfort food, yet it doesn't exactly fit that category in the way other St. Louis comfort food restaurants do. "'Contemporary urban casual' is what we like to call it. Very laid-back, but with pretty reasonable prices," Storman says. The cuisine is inspired by Southern classics such as collard greens, fried catfish and grits, but with a modern edge and slightly more urbane flair. "We knew what the staples were...we wanted wings, of course we wanted seafood, and we took some ideas from different places around the country and put our twist on it," Storman explains.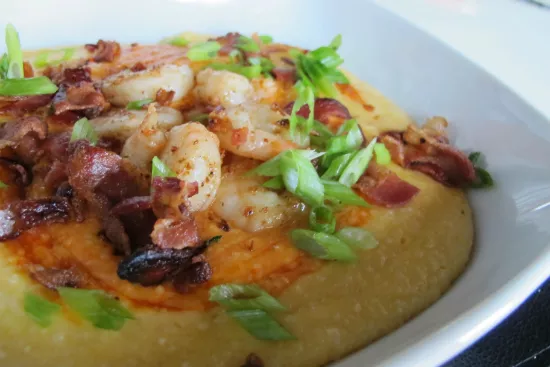 Rease Kirchner
The cheddar grits topped with shrimp and bacon at Soho.
Some of the starters Gut Check enjoyed include the fried cornbread balls (free to dine-in customers), breaded catfish fingers ($7) and spicy chicken wings ($7). Though the appetizers are substantial, be sure to save room for flavor-filled entrees such as the cheddar grits with shrimp and bacon ($16) or short ribs with turkey, collard greens and macaroni and cheese on the side ($16). For the true downhome experience, cap the meal with one of the restaurant's rich desserts -- we suggest the homemade peach cobbler with a scoop of vanilla ice cream ($7). If you're just dropping in for a drink, the selection and crafty cocktails won't disappoint. Premium drinks such as the "Pineapple Upside Down" ($7) showcase the bar's inventive spirit while standards like its fresh margarita, made with agave nectar and fresh cilantro ($7), prove its cocktail menu aims to satisfy creative and classic tastes alike.
"If you're from St. Louis, you've never experienced anything like Soho," says Storman. "It's different from any other place in the city; it's an entirely different experience." In one location Soho manages to house gourmet comfort food, a rooftop private lounge and a dance floor complete with in-house DJs. "My mission is to be a one-stop shop -- a place you can go for dinner, have some cocktails and party as well," Storman beams.
The main dining area of Soho is currently open Wednesday through Saturday from 5 to 10 p.m. On Friday and Saturday the kitchen stays open till midnight, serving only appetizers in the lounge area. Keep up with events or reserve your table at Soho by following its Facebook page.
Rease Kirchner
The short ribs with mac and cheese and turkey with collard greens at Soho.