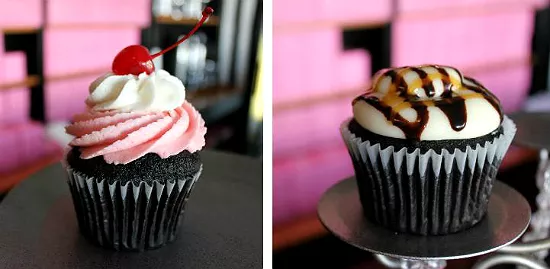 Liz Miller
Cupcakes runneth over at the newly opened the Sweet Divine storefront.
On Tuesday, June 26, Jason and Jenna Siebert, owners of the Sweet Shop Truck by the Sweet Divine, expanded their bakery business to include a brick-and-mortar bakeshop with the opening of the Sweet Divine (4521 South Kingshighway; 636-942-2900) in south city.
"I couldn't wait to start, but the day before I told Jason, 'Gosh, I'm kind of nervous,'" says Jenna. "And he said, 'It's just like the cupcake truck except you're not driving around!' We kind of look at this like our second storefront."
The Sieberts describe finding the location as serendipitous. Shortly after launching the Sweet Shop Truck in March 2011, the couple secured a commissary in south St. Louis County near their home to act as kitchen, staging and decorating areas for food truck baking. When the family decided to move to the Clifton Heights neighborhood of south city, Jenna and Jason knew they needed a commissary closer to their new home.
Liz Miller
The charming, retro-meets-Bohemian exterior and interior of the Sweet Divine.
"We had to have something now to keep the truck going," says Jenna. "We had cakes booked! Then we found this place and it was all set up. We had to bring in our ingredients and our pans and we started working. That's why we were able to open the store so quickly."
With a ready-made bakery kitchen and a storefront footprint as a starting point, Jason and Jenna set to work creating a shop that reflected the food truck's sweet, vintage boutique style.
"You get a feel for what we're really all about and what we can do," says Jason. "That's all her [Jenna]. She's the artist. She's the backbone and brainchild of it all. She knew exactly how she wanted the truck to look, and she captured the truck's vibe and brought it into the store."
Self-taught bakers with lifelong passions for whisking up sweets, Jenna and Jason take pride in the Sweet Divine's imaginative, experimental and ever-evolving menu. It's a collaborative process for the couple, with Jason responsible for the baking and Jenna for the decorating.
"It was always my creative outlet...making the fondant, cutting it, rolling it, sculpting it," says Jenna. "Then we ended up working together. We've been married for thirteen years, and we work so well together and have so much fun. It's just a good fit."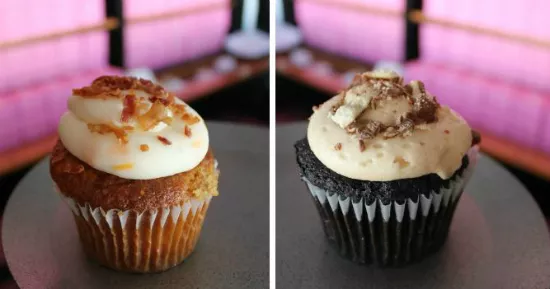 Liz Miller
The "Drunken Pig," cupcake (left) and the "Beer and Pretzel" cupcake.
The shop offers more than 40 creative cupcakes, with quirky standouts including "Elvis," a banana cupcake with peanut butter buttercream topped with chocolate chips; "Beer and Pretzels," a chocolate stout cupcake with stout buttercream topped with crushed chocolate pretzels; and "Drunken Pig," a Newcastle Beer and sharp cheddar cheese cupcake with sharp cheddar cream cheese frosting topped with bacon and many more. Cupcakes are $3 each, $10 for four, $15 for six and $30 for one dozen.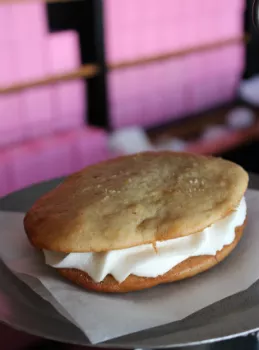 Liz Miller
The banana cream whoopie pie at the Sweet Divine.
In addition to cupcakes, the Sweet Divine offers a litany of other confections: cakes, cake-by-the-slice ($4), cake pops ($1.50), whoopie pies ($3), cookie sandwiches ($3), cookies ($1 to $3), scones, fudge and French macaroons ($1.75), just to name a few items. Upon opening, the shop began selling a egg and provolone cheese ciabatta breakfast sandwich ($3.50), and Jason and Jenna hope to develop a café menu in the future.
"It's pretty much whatever we feel like baking," says Jason. "If I have a taste for cinnamon rolls, I'll make some and put them in the display case. It's really going to be just like that; that's kind of how we've always set our menu."
Though the shop only opened its doors for business last week, the Sieberts say the reception from customers and the neighborhood has been overwhelmingly positive. As for bridging the gap from dessert food truck to storefront bakery, so far the transition has been very smooth.
"It's nice to be able to be here working and have a regular flow of customers coming and to be able to interact while you're still working," says Jason.
The Sweet Divine also shares space with pastry shop Pie in the Sky. Owner Marcia Mermelstein was the first pastry chef at Winslow's Home, and her pies have been sold at Kaldi's Coffee, Parker's Table, Stone Spiral Coffee, Meshuggah's Coffee House, among other locations. Customers interested in ordering pies can drop in during business hours to peruse the menu and place orders, and Mermelstein will be on-hand in the shop on Saturdays and Sundays.