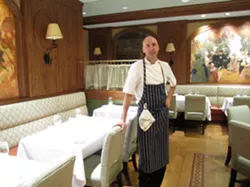 Amanda Woytus
John Griffiths, new campus executive chef at Washington University
Washington University Dining Services announced on Monday that it has named the acclaimed St. Louis chef John Griffiths as its campus executive chef. The high-profile hiring shouldn't come as too much of a surprise: Wash U., through its dining-services operator Bon Appétit Management Services, espouses a "farm-to-fork" ethos and was recently named "The Top University for Food Lovers" by The Daily Meal.
Griffiths departed this spring as executive chef of Truffles (9202 Clayton Road, Ladue; 314-567-9100), where his take on modern Italian fare won acclaim. He was also the original chef de cuisine of the late St. Louis edition of Larry Forgione's An American Place.
Just last month, Griffiths cooked at the James Beard House in New York City, a dinner that he previewed at several area restaurants.
When Gut Check spoke with Griffiths upon his departure from Truffles, he told us he was moving ahead with plans to open his own restaurant. We've reached out to Griffiths to learn what happened to those plans, and also to learn what his new job entails. More as we learn it.
Related:
Gut Check's Chef Choice Profile of John Griffiths, Part 1 Gut Check's Chef Choice Profile of John Griffiths, Part 2 Gut Check's Chef Choice Profile of John Griffiths, Part 3