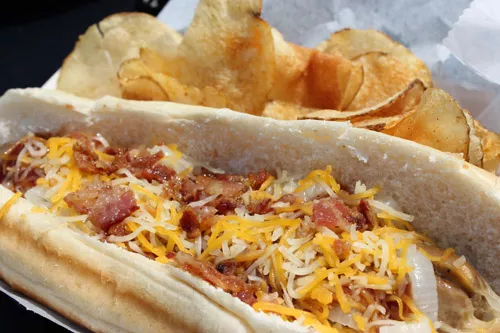 Chrissy Wilmes
All puns aside, look at the size of that thing.
Try not to get too jealous, now. But Gut Check spent our Friday night in a movie theater packed with a 90 percent female crowd in a sold-out theater at Galleria 6 Cinemas (Saint Louis Galleria, Richmond Heights; 314-725-0808) watching tan, sculpted, hairless male bodies gyrate and jiggle. Magic Mike, the quasi-memoir approximating Channing Tatum's pre-fame experiences as a stud in an all-male revue, lit up the screen. In fact, its release probably should have been delayed, considering we're in the middle of a drought and this film is out to start. some. fires.
See, the beauty of Magic Mike lies in its complete lack of subtlety. The film embraces its ridiculousness with a refreshing self-awareness, but it doesn't hold out on the goods, either. Sure, less than a minute after the opening credits, C Tates' impossible ass is on full display. But it still manages to tell a story and even has a moral. (Which can be boiled down to "Stripping's OK, just stay out the trap.")
For the film's first half, the mood is light and the characters likeable -- while Mike could've easily been a meathead oozing testosterone and machismo, he's instead simple, kind and fun. Sure, he's knee-deep in a tangle of lady limbs on account of his moves, but we'd like to see you resist that magic man after he gets down to some Ginuwine.
We hereby nominate Matthew McConaughey for "Best portrayal of Matthew McConaughey BY Matthew McConaughey," alrightalrightalright.
Matthew McConaughey's omnipresence as the douche-y dudemaster was a necessary evil and wasn't so much a portrayal of anything as Matthew McConaughey doing what we imagine he does anytime he sees his oiled, tan visage in a reflective surface.
We digress.
The fact that Mike and his peers are happy and content allows the audience to objectify them guiltlessly. For once it's male bodies being broken down into (awesome, unrealistic) parts for the benefit of the female gaze, and, yeah, it's pretty satisfying. Sometimes girls just wanna see the boys go wild.
In the spirit of Magic Mike's keepin'-it-real candor, we tracked down the Sausage Syndicate truck for one of its signature oversize wieners. The "Right Hand Man" was the obvious pairing for a film that's as much a bromance as it is an in-depth study in the visual appreciation of chiseled men, with Mike taking "the kid," a doe-eyed nineteen-year-old, under his wing.
The all-beef sausage (we forgot to measure, but that thing had to be at least nine inches long) is stuffed with cheddar cheese and covered in bacon, more cheddar cheese, onion and a root-beer barbecue sauce. Just like the Exquisite male dancers, it's big, spicy and sweet. Unlike Mike, it'll only cost you $8.
Enjoy the NSFW Magic Mike RedBand trailer