Courtesy Breastaurant Uniforms
Last year, Gut Check noted that St. Louis was far ahead of the emerging national trend in breastaurants. (If you can't figure the term out for yourself, it refers to Hooters, The Tilted Kilt and their ilk.) This week, the Associated Press reported that the breastaurant industry is positively booming: "The nation's top three 'breastaurant' chains behind Hooters each had sales growth of 30 percent or more last year, according to Technomic, a food industry research firm."
Yet even Gut Check was surprised to learn, via a Slate post about the AP article, that there is a, uh, firm dedicated to supplying uniforms to breastaurants: Breastaurant Uniforms.
Breastaurant Uniforms owner and head designer Terra Watson -- a Kansas City native, though now both she and her company call Dallas home -- made her name designing uniforms for very high-profile dance teams and cheerleaders, including for such iconic sports franchises as the Los Angeles Lakers, Dallas Cowboys and San Francisco 49ers.
"Dancewear isn't too far away from these types of uniforms," she tells Gut Check on the phone from Hawaii, where she and her husband are enjoying their honeymoon.
"There's nothing I love more than taking these [breastaurant] concepts and seeing the restaurants [expand] from one location to another to another."
Gut Check: Tell us how you got involved in the breastaurant biz.
Watson: The CEO of what would become Twin Peaks told me, "Hey, I'm thinking of this sexy uniform for this restaurant." I almost didn't take the call because it sounded kind of peculiar. But the minute he told me about the idea of Twin Peaks, the very first idea I came up with was that lumberjack -- well, lumerbgirl -- outfit. It went from there.
Courtesy Breastaurant Uniforms
Why do you think breastaurants are "booming" now?
They've been around for a whole long time. Great food, cold beer and beautiful women is as old as the hills. We didn't invent this. [But] people are becoming more accepting of these places. Our uniforms cover more than you'll see in a high school! A company like mine, our uniforms are made specifically with inseams that cover all the right parts. We're elevating the look of the breastaurant. It's not this skanky look -- a tank top with the boobs hanging out, stripper shorts with the booty hanging out. Before, you had two choices: inappropriate stripper stuff or boring polo shirts and shorts.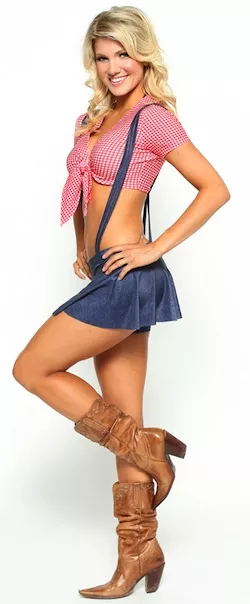 Courtesy Breastaurant Uniforms
So what makes a great breastaurant uniform?
Fashion and function. It's that simple: when the girls look good and feel good and feel comfortable. These girls are all young and beautiful and have great bodies. The good Lord gave them a great mind, a great figure and a great personality, and we want to honor that. We also give them outfits that are durable, and they wash well. If it makes them feel confident and sexy, and it's a good value, then it's an all-around better experience [for the restaurant as a whole, including customers and management].
What's the craziest concept a would-be breastaurateur has pitched you?
We get calls every day about everything. Restaurants will have this concept, this crazy Alice in Wonderland concept: "I want each girl to have an outfit from this fairy-tale fantasy land." I have to remember we create uniforms that actually work in a restaurant. We have to rein in their dreams. But I don't think they're that crazy. I love the kind of "out-there" things. That's my job. Come to us with an idea; we'll make it come alive.
We have to ask: Do you ever get calls about designing sexy uniforms for men?
Absolutely! Just in the last few months, we've gotten so many requests for men's uniforms. (What would that be? A chestaurant?) So now we are in the works. They want it. Why not have eye candy for the ladies, too?