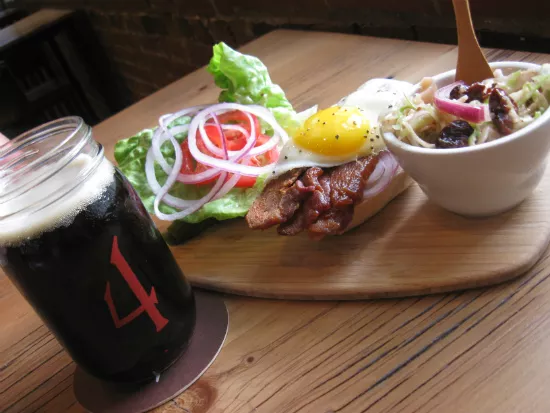 Alice Telios
4 Hands Cast Iron Oatmeal Brown beer paired with the Fifth Wheel's "Spicy BLT" and a side of poached cherry slaw.
On Friday, June 15, 4 Hands Brewing Company (1220 South Eighth Street; 314-436-1559) introduced the Fifth Wheel, a restaurant located inside the local craft brewery. 4 Hands' president Kevin Lemp calls the Fifth Wheel's fare sophisticated bar food.
The tasting room at 4 Hands was equipped with a small kitchen from the get-go in anticipation of including a restaurant. After pairing with local food trucks on weekends and during Cardinals' home games, Lemp eventually found the right St. Louis restaurateur to share his space on a permanent basis: Dave Bailey of Baileys' Chocolate Bar (1915 Park Avenue; 314-241-8100), Baileys' Range (920 Olive Street; 314-241-8121), Bridge Tap House & Wine Bar (1004 Locust Street; 314-241-8141) and Rooster (1104 Locust Street; 314-241-8118).
Alice Telios
Peach habenero wings with celery and ranch at the Fifth Wheel.
"I have got a lot of respect for Dave as a person and all of his establishments, so I approached him about a month ago," says Lemp.
4 Hands opened in late 2011, and Bailey became one of Lemp's leading customers. The partnership between the two men was a natural relationship of brews and food that grew with time.
"I think it is just another way that we can collaborate with another local business and business owner," explains Lemp. "We think that that's really cool. We are just now allowing our guests or are giving our guests that well-rounded experience of food and beer."
Bailey and his executive chef Peter Clark created a simple menu that they'll switch up to satisfy 4 Hands' customers. They use 4 Hands' four core beers in several dishes, like rarebit made with the Reprise Centennial Red, and plan on adding options to the menu to complement 4 Hands' seasonal selections. Appetizers include smoked peach-habanero chicken wings and a charcuterie board with summer sausage, chicken-liver mousse, grain mustard, Manchego cheese, poached cherries and flatbread. Sandwiches, like the spicy BLT with a fried egg, also grace the serving boards. Prices range from $3 to $12.
"It is our menu, and we will change it frequently, but it will always complement his space and his patrons," says Bailey.
Alice Telios
Nachos with cheddar cheese, jalapenos, poblano pico, smoked-tomato chutney and sour cream at the Fifth Wheel.
Besides the presence of menus and the scent of wings and bacon, there haven't been any cosmetic changes to the 4 Hands tasting room. Bailey and his crew have the luxury of prepping the dishes at his nearby Baileys' Range hub and then using the brewery's amenities as a finishing kitchen.
Food is available at the Fifth Wheel Monday through Saturday from 5 to 10 p.m. The restaurant will also have a Saturday blue-plate brunch special offering one dish that marries breakfast and beer. Saturday brunch will run from 11 a.m. to 1 p.m., or until the food runs out.
"We are just hoping to give people another enjoyable experience in the city," says Bailey. "You know, I love this city, and I love the restaurants in this city, and I just want to continue to be a part of that."
Alice Telios
A peek at the Fifth Wheel menu.