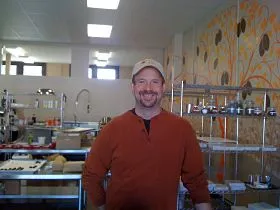 Aimee Levitt
Brian Pelletier, the most dangerous man in St. Louis.
First it was the lavender and Maker's Mark truffles. Then it was the white pepper bark. Then came the bacon brittle. And the pistachio oil over ice cream. All of it seemed like it wouldn't taste quite...right. And it all turned out to be insanely good.
This is why Kakao Chocolate (2301 South Jefferson Avenue; 314-771-2310) has our unquestioned devotion -- and why it has been Riverfront Times' Best Chocolate for two of the four years Brian Pelletier has been in charge.
But still there was something lacking, a craving unsatisfied. A couple of years ago Pelletier concocted some bacon sea-salt caramels for an event sponsored by Slow Food St. Louis. We waited for them to appear at the Kakao retail store in Fox Park and then the new location in Maplewood. Instead we got flavored marshmallows, balsamic truffles and coffee caramels. Not that we're complaining. But Gut Check does love its bacon.
So you can imagine our joy when Pelletier informed us that bacon caramels will now become part of the regular Kakao repertoire.
"It's time," he says simply.
Pelletier bakes his bacon on sheet pans in the store's oven. This way the bacon spends less time sitting in its fat and, more importantly, he can prepare large quantities of it at once. The bacon fat is recycled as the fat component of the bacon brittle known as the the Big Squeal. ("It's dairy free!" Pelletier says proudly.)
But you probably don't care about all that. You just want the damned caramels. Well, good news: You can get samples today at Kakao Maplewood (7272 Manchester Road, Maplewood; 314-645-4446). Go. Go now. Is there anything that can possibly be more pressing?