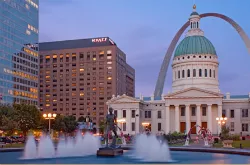 The Hyatt Regency St. Louis at the Arch.
On Tuesday, June 19, the Hyatt Regency St. Louis at the Arch (315 Chestnut Street; 314-655-1234) announced a new food-service initiative titled "Food. Thoughtfully Sourced. Carefully Served," a comprehensive effort to provide guests and restaurant customers with healthier, locally sourced food options.
Changes include vegetarian and gluten-free options on every menu as well as menu items featuring cage-free eggs and free-range bacon. The goal, according to Marco Fabozzi, director of food and beverage for the Hyatt Regency, is to cater to the changing tastes of guests.
"The St. Louis food scene is changing and evolving and becoming more sophisticated," Fabozzi says. "Our hope is that the people of St. Louis, as well as our guests, receive a better experience."
The initiative, which was introduced to all Hyatt locations last week, is set to be implemented in every Hyatt branch by the third quarter of thia year. Prices on menu items and room service should remain the same, according to Fabozzi.
"Some of the changes we're making may increase food costs, but we are trying to give guests a higher quality experience at the same price," Fabozzi says.