courtesy Jen Pickett
Big red: Poet, freelance writer and commercial fisherman Jen Pickett is hauling in some big-ass Copper River sockeye this year.
Update, June 21, 2012, 10 a.m.: While noodling around the Internet looking for photos of Copper River salmon, we ran across Jen Pickett, a writer, poet and one of only a handful of women who work as commercial fishermen in Alaska. Pickett, who's working on a book about fishing in Alaska and blogging about her experiences at PickFish Tales, was kind enough to send us a couple of photos of sockeye she caught during this year's run.
"It's your lucky day," Pickett writes via e-mail. I'm in town for a few hours, a much-needed break from fishing. And there is wi-fi.
"I do happen to have a photo of me and a sockeye that we caught last week. They have been larger than average this year, we are all amazed. They usually run a six-pound average and they are running an eight- or nine-pound average. We weighed one at 11.7 pounds! That's a big red!" ________________________
If there's anything Gut Check loves more than food, it's a bargain on food.
And over the past week Copper River salmon prices have had us seeing red -- as in red (a.k.a. sockeye) salmon fillets for $13 per pound, which is a bona fide steal.
Alaska's Copper River is well known to salmon fishermen and salmon fanciers alike, owing to the rich flavor of the fish that return there each year to spawn, and to the early-summer window during which you can acquire them. Beginning in the late 1980s, Copper River salmon developed a national following, with effusive praise for the various species (king, sockeye, coho) translating to increased demand and steepening prices.
"Copper River king salmon are not merely salmon, they are fish you beg and cajole and wait your turn for, hoping to find a fish market that can procure them," the Washington Post's Phyllis Richman purred back in 1987.
But the past two years have seen bountiful catches as the salmon season kicked in. This week, in fact, you can find Copper River sockeye fillets on sale at Schnucks for $12.99 a pound. Dierbergs is getting $14.99. Straub's, which had 'em at $12.99 last week, is now up to $18.99.
You'll know the fish when you see it; its flesh is a brilliant red.
If you insist on paying more for your salmon, you can still empty your wallet for Copper River kings. King (a.k.a. Chinook) salmon are bigger and fattier (and paler) than their sockeye cousins. More fat means more flavor, and a much briefer annual spawning run means upward of $40 per pound. To give you an idea, the Alaska Department of Fish and Game's forecast for the 2012 Copper River run predicted a haul of 1.4 million sockeye versus 24,000 king salmon. Of course, kings are bigger -- some weigh in at more than 50 pounds, while sockeyes are in the 6-to-7-pound range -- but still.
For the record, Gut Check is sticking with sockeye. Oh, and by the way, believe it or not, there's a (Facebook) app for that.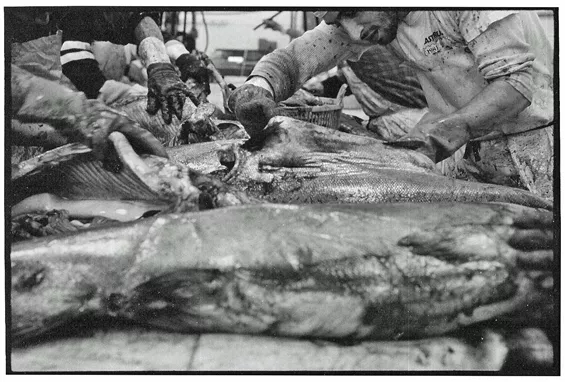 Rare archival photo of Gut Check performing on-site gut check on wild-caught Alaskan salmon.