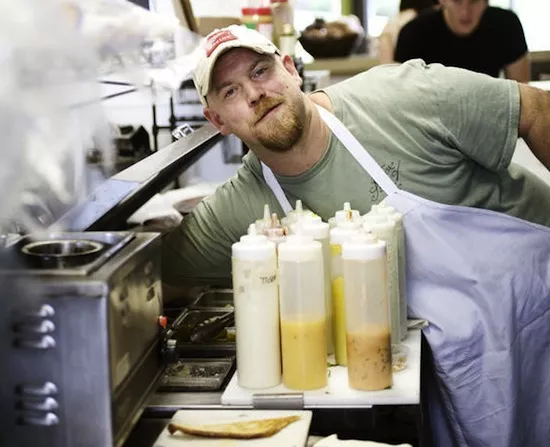 Jennifer Silverberg
Mark Lucas in the Fozzie's kitchen
As Gut Check reported on Tuesday, Fozzie's Sandwich Emporium (1170 South Big Bend Boulevard, Richmond Heights; 314-932-5414) is one of three St. Louis restaurants and chefs mentioned in the July issue of Food & Wine. In a feature titled "Why Sandwich Chefs Are Our New Heroes," owner Mark Lucas is one of twenty "Sandwich Chefs to Know."
Lucas tells Gut Check that he learned about the article three months ago.
"I thought it was fantastic," he says. "My father-in-law owns a winery southeast Missouri, and it's been his dream for years to get in [Food & Wine]."
As for the magazine's focus on the evolution of sandwiches, Lucas says, "I'm glad it's getting recognized. I think sandwiches have evolved so much as to what people are doing with them."
As for the future of the popular Fozzie's, Lucas reveals that he's hoping to expand the indoor seating area by the end of the summer so that the restaurant is a little more "all-season."
(For those who have never visited Fozzie's, the restaurant's dining room is tiny, but there is plenty of outdoor seating.)
Lucas also says he's scouting for a possible second location, a process that he'd initially begun eight months ago, before he and his wife learned that they were expecting a second child.
Related:
- RFT Review of Fozzie's Sandwich Emporium (September 15, 2010) - Dinner and a Movie: The Muppets and Fozzie's Sandwich Emporium (December 2, 2011) - The Veggielante Feasts at Fozzie's Sandwich Emporium (June 11, 2012)