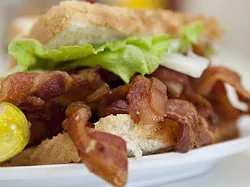 Laura Miller
The "Heart-Stopping BLT" at Crown Candy Kitchen is ready for its close-up.
Tonight, historic St. Louis eatery and sweet shop Crown Candy Kitchen (1401 St. Louis Avenue; 314-621-9650) and its famous "Heart-Stopping BLT" sandwich will be featured in an episode of Adam Richman's Best Sandwich in America on the Travel Channel. The show's host, Adam Richman, is well-known as the host of Man vs. Food, where, in 2009, he tried and failed to conquer Crown Candy's milkshake challenge.
Gut Check reached out to Crown Candy co-owner Andy Karandzieff for comment about the restaurant competing for the Midwest division of the show -- and not surprisingly, Karandzieff was thrilled, if not preoccupied, leading up to the episode's debut.
"I'm glad people love bacon!" he says. Sherri Karandzieff, Andy's wife, shared a bit more with Gut Check, explaining that the business has been busy preparing for the show to air this evening.
"We're just really excited," Sherri says. "We've been frying bacon around the clock in anticipation for tonight!"
The BLT faces off against two other sandwiches from Midwest eateries: the "4-Courser" from Fifty/50 in Chicago and "Al's Italian Beef Sandwich" from Al's Beef, which is also located in Chicago. Tune in tonight at 8 p.m. -- Gut Check certainly will -- to see if Crown Candy's BLT edges out the Windy City sandwiches.