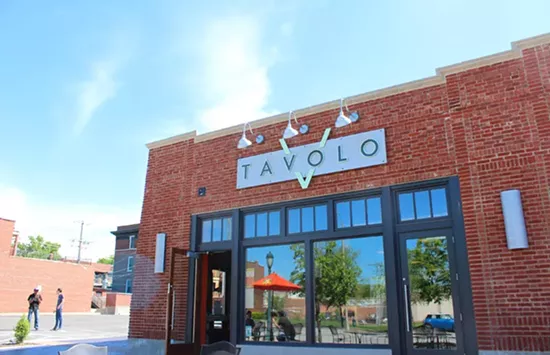 Since last fall, restaurateur Michael Del Pietro has added two new ventures to his stable: Pazzo's Pizzeria (140 South Kirkwood Road, Kirkwood; 314-821-6500) and Tavolo V (6118 Delmar Boulevard; 314-721-4333). This week, I take a look at both spots. Page through for a sneak preview of my review.
When Michael Del Pietro opened Sugo's Spaghetteria in Frontenac four years ago, he anticipated the exact sort of establishment that eager but cost-conscious restaurant-goers would crave during the long recession. Sugo's clean design and autumnal palette evoked a modern (even urbane) spot, yet prices were reasonable and portions generous: meatballs as big as tennis balls, a single serving of lasagna plentiful enough for two (or three) to share. If the menu was predictable, the kitchen executed it with enough finesse to distinguish it from an old-school red sauce/white sauce joint.

Since then Del Pietro has opened a second Sugo's (in Overland Park, Kansas) and two Sugo's clones called Babbo's Spaghetteria (in Chesterfield and Columbia). He has turned the space adjacent to the original Sugo's into Via Vino Enoteca, a wine bar. And most recently he has debuted two further riffs on the Sugo's concept: Pazzo's Pizzeria in downtown Kirkwood and Tavolo V east of Skinker Boulevard in the Delmar Loop.
Visit Gut Check tomorrow morning to read my complete review and see Jennifer Silverberg's slideshow of Tavolo V.