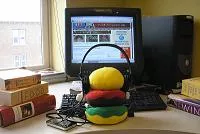 Gut Check dishes on our favorite St. Louis food blogs.
Cupcake Project: Stef made brown sugar peanut butter frosting.
The Sweets Life: Natalie shared creamy mushroom fettuccine Florentine.
Every Little Thing: Stacy made cheddar and jalapeno biscuits.
Sweet Art: Amrita shared potato chip chocolate chip cookies.
Rhubarb and Honey: Kimberly made simple Sunday green beans.
One Hot Stove: Nupur shared tres leche cake.
Sauce magazine's blog: Julie made steak with thyme zinfandel salt from cookbook Charred & Scruffed by Adam Perry Lang.