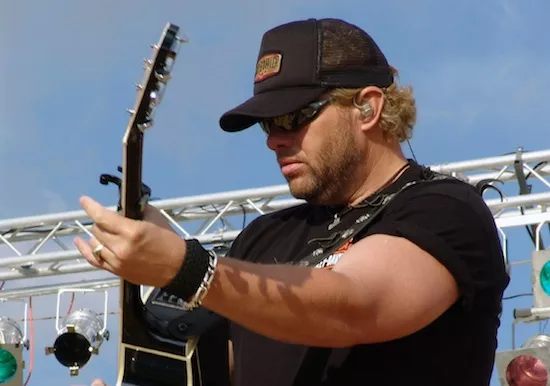 Toby Keith: Coming soon to St. Louis?
Talk about burying the lede: Today's Post-Dispatch article on developer Centrum's plans for mall-turned-public-art-space-turned-abandoned-mall Crestwood Court (Watson Road & Sappington Road, Crestwood) drops this bomb in the fifth paragraph:
On the east side, what was a Dillard's garage would be structured into a location for a Toby Keith's bar and grill. That was the only specific potential tenant named.
What the what!?!?
Oh, you didn't know that the country star had his own restaurant, Toby Keith's I Love This Bar & Grill? With locations in multiple states? It's true.
We can only hope that St. Louis lands the menu featured at the original three Oklahoma locations, not the more conventional menu at the later, non-Oklahoma locations, like the New England Patriots' Gillette Field complex (PDF) in Foxboro, Massachusetts.
Among the charms of the Oklahoma menus (PDF):
- Remember back a decade ago, when America was like, "Saddam Hussein has weapons of mass destruction! He must be stopped!", and then France was like, "Whoa, there, cowboy!", and America was all "9/11! You're either with us or against us!" and then we started calling french fries "freedom" fries?
Well, Toby Keith's still calls them "freedom" fries. Topped with Monterey jack and cheddar cheeses, bacon, sour cream and green onions, this "freedom" will cost you a shade under nine bucks.
- Seafood dishes are grouped under the heading "Canal Catch," which sounds like a World War II-era euphemism for gonorrhea.
- Among the appetizers are calf fries, so that line-dancing soccer moms (and dads -- we don't judge) everywhere can claim to have had Toby Keith's balls in their mouths.
We. Can't. Wait.