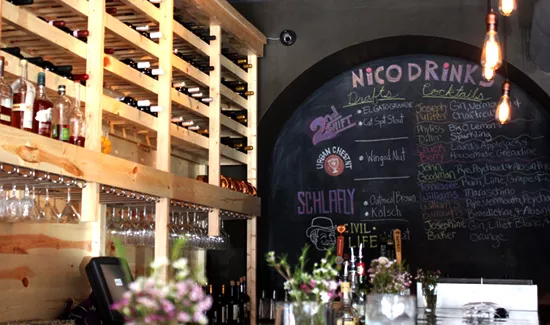 This week, I visit Nico (6525 Delmar Boulevard, University City; 314-727-0200), the new Mediterranean-influenced restaurant from the folks who brought us the critical and popular hit Franco (1535 South Eighth Street; 314-436-2500). Page through for a sneak preview of my review.
I couldn't review Nico anonymously. Owner Tom Schmidt busted me as a restaurant critic when I visited his first venture, Franco, five years ago. Our paths have crossed many times since then, especially over the past nine months as he transformed the old Brandt's Cafe space in the Delmar Loop, just up the street from Riverfront Times' offices, into Nico. No restaurant-critic trickery -- not reservations made in the name of a 1980s-era utility infielder, not wig, not even Groucho Marx mustache and glasses -- could have prevented the moment when I walked into Nico for lunch and Schmidt greeted me with a smile and a handshake.

Did it make any difference?
Visit Gut Check tomorrow to read my complete reveiw.