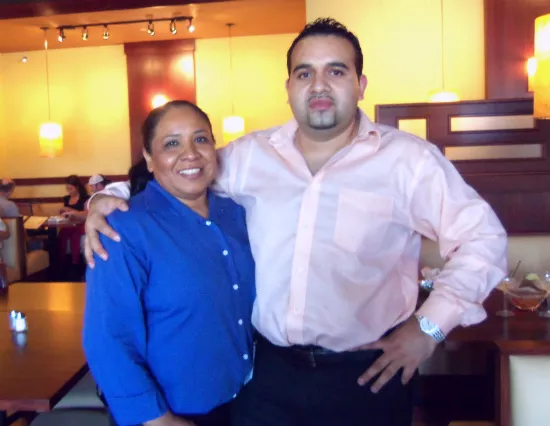 Emily Wasserman
Fiesta co-owner Roger Aguirre and his wife Estella in the restaurant's dining room.
Fiesta! Modern Mexican (185 Hilltown Village Center, Chesterfield; 636-536-0002) opened at the beginning of May. Gut Check stopped by the restaurant recently to chat with Roger Aguirre, one of Fiesta's three owners.
"I've always wanted to do something different than other Mexican restaurants, something more unique and authentic with a modern twist," says Aguirre. "Some items we have are similar to other restaurants, but the recipes are all our own."
The restaurant was born of talks between Aguirre and fellow co-owners John Signorino and Gerry Morano. Aguirre was working as the general manager at Iggy's Mexican Cantina (13645 Big Bend Road, Valley Park), which has since become Flip Flop's Cantina Grille, and Signorino and Morano were operating a tequila business. When the two men stopped by the restaurant and met Aguirre, the idea for Fiesta was born.
Aguirre is the mastermind behind Fiesta's menu, which offers everything from burrito carnitas ($9.99) with pulled pork and hot sauce to "Sopa del Mar" ($13.95), a soup with scallops, fish, shrimp, crab meat and vegetables. The menu also includes twenty chef specials, ranging from Mexican pizza ($14.99) to the "Chilaquiles Mexicanos" ($8.49), a traditional dish made with tortilla chips, topped with Chihuahua cheese. Aguirre developed the menu with the help of his wife, Estella, who is also from Mexico.
"In Mexico, there are different flavors from state to state," says Aguirre. "My wife is from the south of Mexico, and I'm from the north. So our menu reflects a mix of both cultures."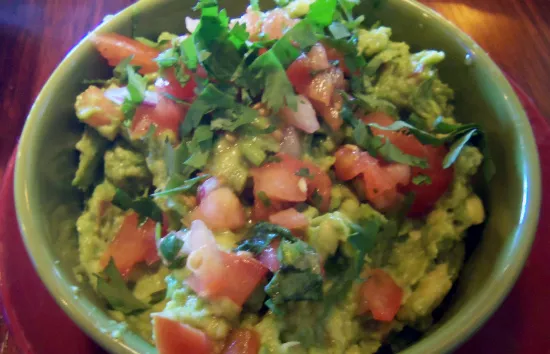 Emily Wasserman
Freshly prepared guacamole at Fiesta! Modern Mexican.
The restaurant stays true to its roots, as most of the food and liquor is sourced directly from Mexico. Aguirre even knows the family who produces the restaurant's tequila.
"I think it's important to use authentic Mexican ingredients in the dishes," he says. "My main motto is to have fresh, real food, and every customer I've talked to has noticed this freshness in our dishes."
The food takes center stage at Fiesta and Aguirre is already considering adding weekly or monthly menus to the restaurant's repertoire.
"I'm always open to new ideas," he says. "When I come to customers at their table, I ask them how they like the food. I wanted to offer customers a different taste, and I think I have."