When Gut Check learned that, in an attempt to enter the Doritos-fast food arms race that Taco Bell began with its "Doritos Locos Tacos" a few months ago, Subway is test-marketing nachos made with Doritos at a Nashville, Tennessee, location, our first thought was, "Damn it -- St. Louis never gets to be a test market."
Our second thought was, "Wait a minute. We can make that ourselves."
Our third thought was, "COOL RANCH."
Our third thought turned out to be the best of the bunch.
First, though, a trip to the supermarket was in order to purchase the necessary provisions: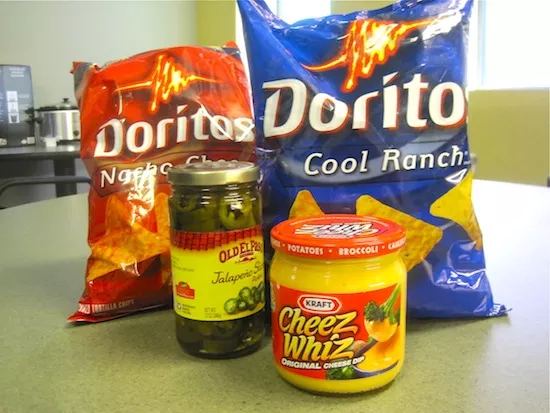 Ian Froeb
Doritos nachos: the ingredients
Ingredients in hand, we went to the break room at Gut Check International Headquarters and nuked the Cheez Whiz until it reached an appropriately velvety consistency. We spooned the melted cheese ("cheese") over plates of both the Nacho Cheese and Cool Ranch Doritos and then topped each with some sliced, pickled jalapeños.
The Nacho Cheese nachos were clearly the more photogenic of the two. (It didn't help that our camera is on its last legs, making retaking the terrible Cool Ranch nachos picture more trouble than it would be worth.)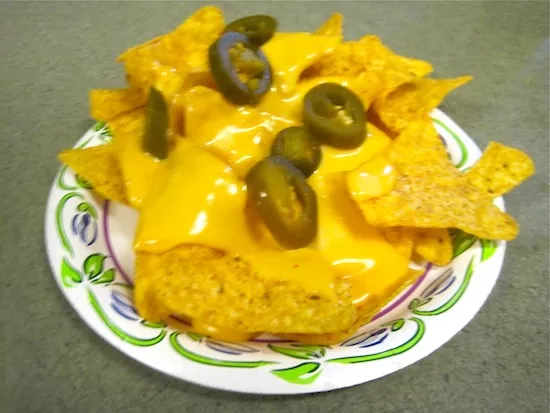 But which would win the taste test?
We brought the nachos to our colleagues, one of whom dug into the Nacho Cheese nachos with gusto. Were they that good?
"I haven't had lunch yet," he replied.
The Nacho Cheese nachos were pungently cheesy. Or cheese-ly pungent. Basically, if you've ever asked yourself, "Self, what would Chester Cheetah's come taste like?", it would taste something like this. (Though presumably not as crunchy.)
Our lunchless colleague raised an eyebrow. "You know, I think the Cool Ranch are better."
Gut Check has to agree: tangy, spicy, exceptionally cheesy ("cheesy") -- but, crucially, not overwhelmingly cheesy ("cheesy"). No thoughts of fellating Chester Cheetah crossed our minds.*
The two other colleagues who were our initial taste-testers agreed that the Cool Ranch nachos were superior. As our focus group expanded, however, the Nacho Cheese nachos gained some champions, including one we'll call the Managing Editor. His eyes lit up, and he went back for seconds and then thirds.
"You know," Managing Editor said, "I think I've made these. I'm having a college flashback, 1993."
Another colleague, who'd wrinkled her nose when we first suggested making these, found herself enjoying the Nacho Cheese nachos as well. She went back to her desk after trying them only to return for another helping a few minutes later: "This is strangely addictive."
Indeed. Subway, this is all the test-marketing you need. Behold the carnage of Gut Check's Doritos nachos experiment: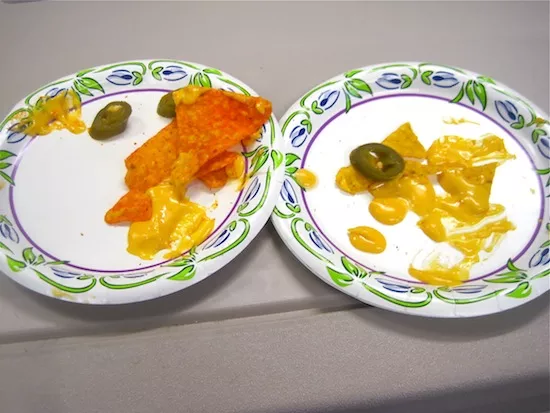 * - This isn't true.