Gut Check has been looking back on the Riverfront Times Best of St. Louis 2011, but we're also keeping an eye on the Best of St. Louis 2012 by nominating finalists for our awards this fall. To see hundreds more winners and finalists, suggest your own contenders and download the Riverfront Times Best of St. Louis mobile app, visit our Best of St. Louis homepage.
As the temperatures in St. Louis rose to unfathomable heights last weekend, a familiar phenomenon occurred: We turned our air-conditioners to full-blast and indulged in our city's time-honored summer treat, frozen custard. Here are our nominees for the five best places to get your custard fix, whether it's blended, scooped or loaded with toppings.
Emily Wasserman
The "Grasshopper" concrete at Silky's Frozen Custard.
Silky's Frozen Custard (15069 Manchester Road, Ballwin; 636-256-7455)
Silky's boasts the "richest, all-natural custard in the Midwest," and we can't dispute its claim. Of all the shops on our list, Silky's offers the custard with the creamiest taste and texture. Its "Feature Sundaes and Concretes" include the "Elvis Pretzely," with pretzels, caramel and melted chocolate, and the "Snowberry Hill," which combines chocolate custard with strawberries and marshmallow cream. Silky's also offers a "Lite," or low-fat, option of its vanilla custard. But for the full experience, try its original custard at one of four locations throughout the St. Louis area.
Emily Wasserman
The "Strawberry Shortcake" at Mr. Wizard's.
Mr. Wizard's Frozen Custard (2101 South Big Bend Boulevard, Maplewood; 314-781-7566)
Mr. Wizard's might only be a blip on the map, but its custard ranks with the likes of Ted Drewes. Its small location in Maplewood is easy to miss, and parking is scarce, but once you find a spot and place your order, the hassle will be well-worth the reward. Mr. Wizard's custard is swirled rather than scooped, and it's rich and silky without being too heavy or sugary. The menu offers everything from standard sundaes and concretes to snow cones mixed with custard. Every sundae comes with whipped cream and cherry on top at no extra charge. Mr. Wizard's isn't fancy, but its understated creations still contend with the fancier sundaes at more popular custard stands.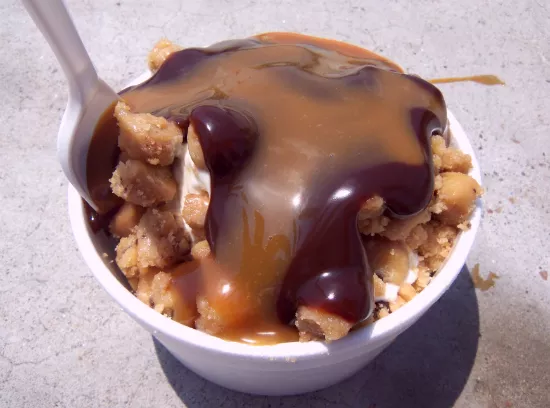 Emily Wasserman
The "Cookie Monster Sundae" at Spanky's Frozen Custard.
Spanky's Frozen Custard (11616 Concord Village Avenue, south St. Louis County; 314-843-9529)
It's somewhat off the beaten trail, but Spanky's Frozen Custard is well worth finding. Instead of traditional scooped custard, Spanky's serves its custard frozen-yogurt style -- that is, in a swirl. You can order the "To Die For," a sundae or custard with peanut butter, peanut butter cups and hot fudge, or try the equally delicious (and sinful) "Cookie Monster Sundae," with cookie dough, hot fudge and caramel. If you're feeling adventurous, try the "Slustard," Spanky's combination of custard and slush, with flavors ranging from "Orange Dream" to "Piña Colada." You don't want to walk from your car to the window to order? No problem. Spanky's is the only shop on our list that has a drive-thru.
Emily Wasserman
A concrete from Fritz's Frozen Custard.
Fritz's Frozen Custard (815 Meramec Station Road, Valley Park; 636-225-8737)
For those who live too far west to make Ted Drewes Frozen Custard a regular outing, Fritz's is a worthy replacement. At Fritz's, which boasts five locations, all the custard is hand-dipped and made fresh, and there are even sugar-free and low-fat options for those who have dietary restrictions. Fritz's also offers "Flavor of the Day" custard, ranging from mint chip and pistachio to chocolate malt. With all the flavor combinations and mix-ins, you won't get bored while ordering.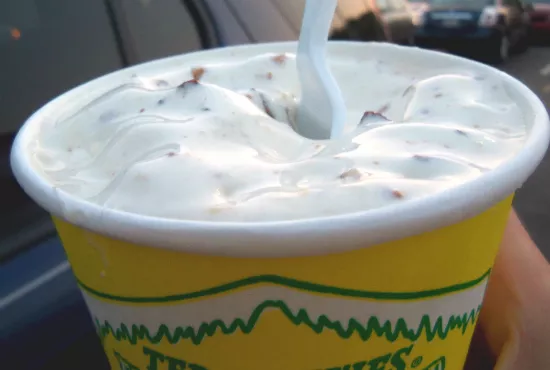 Emily Wasserman
A concrete from Ted Drewes Frozen Custard.
Ted Drewes Frozen Custard (6726 Chippewa Street; 314-481-2652)
Ted Drewes is more than frozen custard; it's a St. Louis staple. Lines on hot summer nights reach epic lengths, and yellow-shirted employees (and as it turns out, policemen) are forced to direct parking lot traffic. All the chaos attests to the shop's popularity, as visitors anxiously wait for one of its famous concretes, sundaes or shakes. Whether you indulge in the "Cardinal Sin," a blend of tart cherries and hot fudge, or the "Crater Copernicus," which combines devil's food cake with custard, hot fudge and whipped cream, you won't be disappointed. As we overheard one woman exclaim mid-bite, "You can't come to St. Louis and not try this." We couldn't agree more.