Taco Bell's "MTN Dew A.M." breakfast cocktail.
This week, Reddit reported that select Taco Bell locations are test marketing a new breakfast cocktail comprised of one part orange juice, one part Mountain Dew. Dubbed "MTN Dew A.M.," the drink is described as a "mixology" of the two beverages, proving that Taco Bell has no idea what "mixology" means. Thirsty fans of suicide soda combos can swig the morning mixture till 11 a.m., though it's unclear what hour of the day the drink begins to be sold, leading Gut Check to wonder: What is the demarcation time between fourth meal and first meal? Also, do Taco Bell patrons really need another cocktail, albeit non-alcoholic, when picking up that bag of five burritos at 3 a.m.?
Obviously the answer is yes. In an effort to assist Taco Bell in offering more, shall we say, creative breakfast cocktails, Gut Check has compiled a list of ten alternative Taco Bell-themed tipples for the company's consideration.
RFT photo
Introducing the "Bloody Fruitista" a la Gut Check: Taco Bell "Strawberry Fruitista Freeze" mixed with "Fire" sauce. (Great with vodka!)
Our only limitation when brainstorming possible Taco Bell imbibers was the chain's Pepsi soda fountain, which prohibits easy combos such as its pepper-jack sauce with Coke for a Pepper Jack and Coke -- never fear, though, we fudged it anyway. In no particular order -- because, honestly, aren't these all winners? -- here are our top ten potential concoctions for Taco Bell to round out a fuller breakfast cocktail menu:
1. Milk Noir: Mountain Dew Pitch Black and buttermilk 2. Twisted Tomatillo Tea: Lipton raspberry iced tea and green tomatillo sauce 3. Master Blaster: Mountain Dew Baja Blast and refried beans 4. Wild 'n' Mild: Pepsi Wild Cherry and sour cream 5. Treasure of the Sierra Madre: Sierra Mist and cheese dip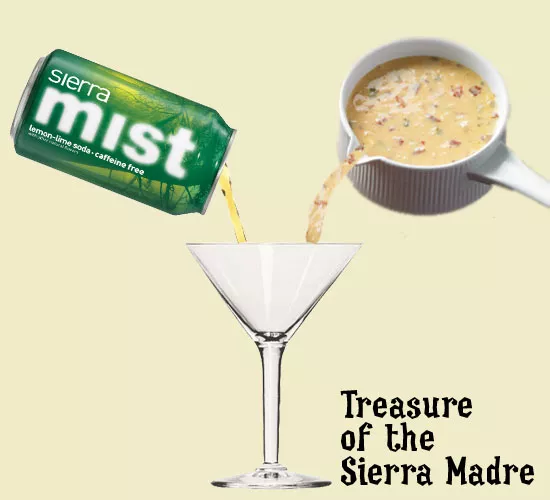 RFT photo
"Treasure of the Sierra Madre" could blend Sierra Mist with Taco Bell cheese dip.
6. Bloody Fruitista: Strawberry Fruitista Freeze with Border fire sauce 7. Lime-A-Ranchita: Cherry Limeade Sparkler and avocado ranch dressing 8. Pepper Jack and "Coke": Pepsi and pepper-jack sauce 9. Jalapeno Puncher: Tropicana Fruit Punch with creamy jalapeno sauce 10. Kefir Mugerland: Kefir and Mug Root Beer
RFT photo
"Kefir Mugerland" could blend Kefir and Mug Root Beer.