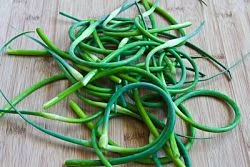 Image via
"A thing of beauty is a joy forever..." It's what we tell ourselves during the 49 weeks of the year when there are no garlic scapes.
Yesterday marked the beginning of the best three weeks of the year, if you happen to be a garlic junkie (like, um, Gut Check). Garlic scapes, the bright green, curly offshoots of garlic bulbs, made their first appearance at the Maplewood Farmers' Market (7260 Southwest Avenue, Maplewood; 314-241-2337). You should be able to find them at the other markets, too. They're cute, they're tasty, what more do you need to know? How to cook them?
Look no further than the Gut Check archive, particularly this post heralding the beginning of last year's garlic scape season. Happy eating!