Selecting Riverfront Times' Best of St. Louis 2011 was no picnic. Choosing the winner meant several worthy candidates would go unmentioned -- until now. In this Gut Check series, we are chewing our way through notable runners up in a number of categories. To see hundreds more winners and finalists and download the Riverfront Times Best of St. Louis mobile app, visit our Best of St. Louis homepage.
RFT photo
The "Heart Stopping BLT" at Crown Candy Kitchen -- delicious, but maybe don't let Grandpa see the name of this one.
In Gut Check's day, the month of May meant precious else than Mother's Day, Memorial Day and attending one too many graduation parties. However, the passage of time (read: since 1963) has led to May also being officially dubbed Older Americans Month. Though there always seems something unintentionally exclusionary about such observances -- does that make June through April Young Americans Months? -- we're taking the opportunity to call our grandparents and buy them dinner, because they deserve it, and because it makes us feel better about ourselves.
Fast Eddie's Bon-Air (1530 East Fourth Street, Alton, Illinois; 618-462-5532): Grandpa may be getting older, but for God's sake, he's not dead. You may not be able to help him fulfill his dream of owning a motorcycle, but the very least you can do is stop taking him out for pancakes. Grandpa's sick of pancakes. Grandpa's also sick of all the screaming little kids out with the other grandpas at the pancake houses. So take Grandpa someplace he'll actually enjoy: Fast Eddie's Bon-Air in Alton. He'll like the retro signs on the wall and the retro prices on the menu. The burgers are still 99 cents, the boiled shrimp are still 29 cents apiece, and nothing's more than $3.99. The music's loud enough that he won't have to complain that his hearing's going. Buy him a beer and watch him (discreetly) check out the cocktail waitresses and listen to him tell you a few racy stories. Time's passing, but you and Grandpa are both alive, dammit, and don't you forget it.
RFT photo
Outdoor seating at Blueberry Hill.
Blueberry Hill (6504 Delmar Boulevard; 314-727-4444): If the retro collectables and St. Louis memorabilia that line the walls and halls of Blueberry Hill don't win Grandpa over, the all-American menu of burgers, fries, sandwiches and beers certainly will. As equal a local landmark as any restaurant, Blueberry Hill has a casual charm that appeals to grandparents no-muss, no fuss nature. Though the menu is sure to please with Midwest classics, you can bet that Grandpa will grouse about having to pay for French fries separately -- as he should, because that really is total bull.
Bob Evans (6528 South Lindbergh Boulevard; 314-487-1919): Is Bob Evans your favorite restaurant? Doesn't matter; it's not about you. It's about Grandpa. It's maybe not even his favorite restaurant, but here are the secrets that make it his favorite place to eat: consistency, quality, speed of service, proper coffee temperature and pleasing acoustics -- everyplace else is so loud that conversation is impossible no matter how high Gramps cranks his hearing aid. It also doesn't hurt that the menu is chock-full of breakfast staples that are served in "old-fashioned" ways. So there you have it. Bob Evans, five for five on the Gramp-O-Meter. Live it up, kid.
Fairmount Park Racetrack (9301 Collinsville Road Collinsville, Illinois; 314-436-1516): Back in his younger days, Grandpa had a strict rule: You don't get lunch at the racetrack until you win. But ever since the price of a hot dog at Fairmount Park dropped to a buck on Horse Hooky Tuesdays (during the live racing season in spring and summer), the old man's eased up a bit. It requires a full belly for him to properly explain his system for betting, and for you to properly comprehend. And if the system fails to work (as it often does), it's due to extenuating circumstances, which requires more explanation and cigar-chewing and maybe another hot dog. If one of you hits a trifecta, you can splurge for the Top of the Turf in the clubhouse, with its ruinous $4 minimum.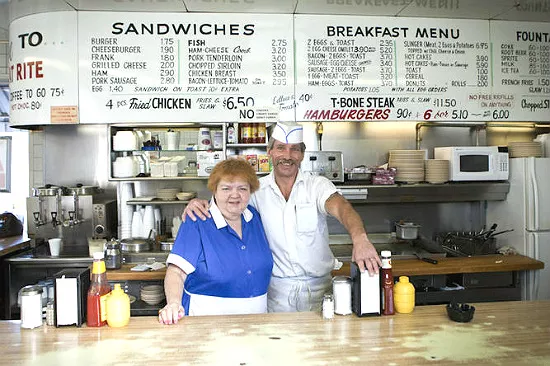 RFT photo
Eat-Rite Diner.
First Watch (8001 Forsyth Boulevard; 314-863-7330): Granted, it's fairly easy to please Gramps -- 'specially when you're around. Bring up a brunch date to First Watch and he's all ears. Even though in his day all restaurants served steaks and whiskey around the clock, he'll marvel at how tight this corporate ship is run on its 7 a.m. to 2:30 p.m. shift. Moreover, the expeditious delivery of perfectly cooked eggs, juicy sausage links and piping-hot Joe will keep him occupied. Enough so he'll completely forget that "when I was your age" shtick and just sit back and smile. What'll put the old man in an even better mood? The sight of you picking up the tab.
Eat-Rite Diner (622 Chouteau Avenue; 314-621-9621): If there is one person who likes to keep it real, it's Grandpa. He's been known to smack strangers with his cane. Anyone under age 50's a "whippersnapper." Grandpa don't take no shit. Neither does Eat-Rite. St. Louis' most storied diner is about as real as you can get, with no-nonsense servers, honest deep-fried everything and prices to match. The next time it's your turn to feed Grandpa (does the dude have a frickin' tapeworm or what?), take him to Eat-Rite. After the old guy's done talking about the days when he had to walk 27 miles in the snow, uphill (both ways), just to buy a loaf of five-cent bread, honor your elder by picking up the minuscule tab. After all, at least some kids these days know a little about respect.
Garavelli's Banquets & Catering (6600 Chippewa Street; 314-352-6600): Tucked in the quiet Lindenwood Park neighborhood of south city, Garavelli's Cafeteria is your classic buffet-style restaurant featuring some of the best early-bird specials in town. The cafeteria selection is plucked straight from Sunday dinner at the grandparent's house: pot roast, potato pancakes, pork chops, leg of lamb, mashed potatoes, veggies and more, and for dessert, the house specialty is a wide variety of freshly made pies -- and though it once served pie free of charge with dinner, Gut Check is sad to report that the restaurant has discontinued that special. It's no matter, as the laid-back ambiance and hearty food will meet the Gramps stamp of approval.
Crown Candy Kitchen (1401 St. Louis Avenue; 314-621-9650): If ever there was a St. Louis restaurant that could make your grandparents feel young again it's Crown Candy Kitchen. Where else could grandpa say, "This is where my parents went on their first date in 1913." Stir up some nostalgia for every generation of your family with a lunch or dinner date at Crown Candy, where chili dogs, BLT sandwiches, malts and shakes make up the bulk of its American soda shop menu. Grandpa will revel in the history of the place and delight in its famous food, calling back to a simpler, cheaper slice of time.
RFT photo
Inside Mike Shannon's Steaks and Seafood.
Mike Shannon's Steaks and Seafood (620 Market Street; 314-421-1540): Poor Grandpa. By the time you pick him up from the Retirement Castle or drag him off the golf course, you and the rest of your family have argued your appetites away deciding where to take him for dinner. Of course, he'll accept whatever you pick, but what does Grandpa really want? Honestly? A nice steak and the Cardinals on TV. Give him both with a touch of class at Mike Shannon's. The steaks are massive, the potatoes ethereal and the baseball memorabilia so plentiful that Grandpa will run out of stories before the entrées arrive. It's expensive, yes, but doesn't Grandpa deserve a treat? After all, he's had to deal with you and your parents.
Carl's Drive In (9033 Manchester Road; 314-961-9652): Time has stood still for several decades in this sixteen-seat classic burger joint, usually filled beyond capacity during peak hours. If he's not already a lifer at Carl's, Grandpa will appreciate this neighborhood gem for its Americana menu, simple set-up and tasty, no-frills fare. Watch him marvel and reminisce at the counter staff as they balance taking orders by way of the pay phone with serving up spatula-smashed fresh ground beef, cooked to order. If you're lucky, the one-two punch of nostalgia will trigger more than a few, "When I was a boy," stories over a pair of double doubles. Be sure to also order Grandpa a frosty mug of the diner's custom-brewed root beer, claimed to come from the original IBC recipe.