Selecting Riverfront Times' Best of St. Louis 2011 was no picnic. Choosing the winner meant several worthy candidates would go unmentioned -- until now. In this Gut Check series, we are chewing our way through notable runners up in a number of categories. To see hundreds more winners and finalists and download the Riverfront Times Best of St. Louis mobile app, visit our Best of St. Louis homepage.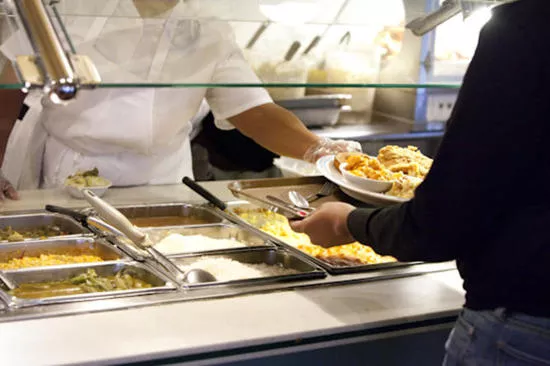 Sarah Rusnak
The cafeteria line at Sweetie Pie's at the Mangrove
Whether you call it comfort food or soul food or just plain food, the cuisine that this category honors is hard to resist. It's also wonderfully broad, from universal favorites like fried chicken to such acquired tastes as liver and onions to (as with this year's winners) trendy, upscale renditions of beloved classics.
Page through for the four finalists and the winner of "Best Comfort Food" in St. Louis.
Sarah Rusnak
Chicken wings with mac & cheese and cabbage at Sweetie Pie's at the Mangrove
Sweetie Pie's at the Mangrove (4270 Manchester Road; 314-371-0304)
For many St. Louisans, Robbie Montgomery's Sweetie Pie's has long been synonymous with soul food. Thanks to Welcome to Sweetie Pie's, the breakout-hit reality show on Oprah Winfrey's OWN network, it now has a national audience. So expect long lines at this cafeteria-style restaurant. It's worth it for everyday delights like the meatloaf and pork steak or such daily specials as short ribs (Monday) or oxtail (Wednesday). And the sides -- mac & cheese, yam, cornbread -- alone are worth the trip...and the wait.
Diner's Delight (1504 South Compton Avenue; 314-776-9570)
Thanks to a thorough renovation a few years ago, after four decades Diner's Delight looks like a relatively new restaurant. The menu, though, remains a constant. Really, all you need to know about the soul/comfort food bonafides of Diner's Delight is that tripe is one of that only five dishes that are available every day. (Fried chicken, burgers, fries and salad are the others.) The rest of the menu rotates daily through such down-home, stick-to-your-ribs classics as meatloaf, liver and onions, oxtails and Salisbury steak.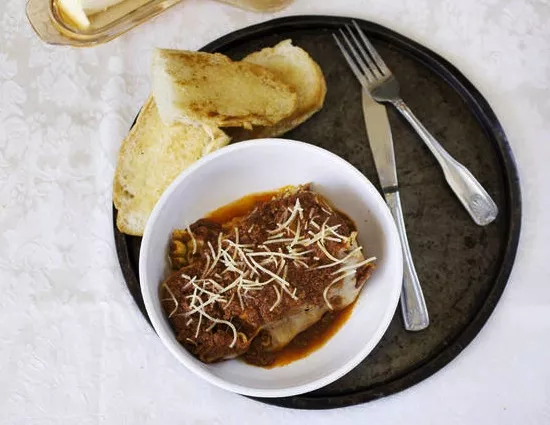 Jennifer Silverberg
The lasagna at Mama Josephine's
Mama Josephine's (4000 Shaw Boulevard; 314-771-4001)
Owner Mary Samuelson takes many of the recipes at this cozy spot in the Shaw neighborhood from her late mother, the eponymous Mama Josephine. What could be more comforting than that? The menu isn't long, but each dish is sure to satisfy: fried chicken and catfish; chicken and dumplings; chicken-fried steak. If Italian is your idea of comfort food, go right for the incredible eight-layer lasagna.
Yummies Soul Food Cafe (3149 Shenandoah Avenue; 314-226-9800)
How can you not love a restaurant that treats diners to a taste of its banana pudding to start the meal? Save room for dessert? It's difficult at Yummies. Fried chicken is an everyday favorite, while the daily specials range from meatloaf and pork steaks on Monday to cube steak and liver and onions on Thursday. Yummies puts the fry in Friday with fried fish, fried chicken (gizzards and liver as well as the usual) and fried pork steaks, while Saturday is barbecue day: beef and pork ribs; rib tips; chicken and more.
And the "Best Comfort Food" is...
Ian Froeb
Housemade pasta with sausage ragu at the Tavern Kitchen & Bar
The Tavern Kitchen & Bar (2961 Dougherty Ferry Road, Valley Park; 636-825-0600)
Think carefully before bringing Mom and Dad or Grandma and Grandpa to the Tavern Kitchen & Bar. Here the kitchen takes the dishes you love from childhood to another place entirely -- a place you won't want to leave. There is no trick here, no gimmick. There are simply classics, such as meat loaf, Tater Tot casserole and mac & cheese, prepared with top-notch ingredients and great care. The meat loaf, bacon-wrapped, is sauced with a mushroom gravy that wouldn't seem out of place atop an expensive cut of steak. Housemade pasta with a sausage ragu is so straightforward and flavorful that you'll never look at a box of dried pasta again. Want to keep the family happy and still enjoy the Tavern? Direct them toward one of the more contemporary dishes, like roasted bone marrow or smoked pork tenderloin in a curried ginger-carrot purée. And should they figure out that the Tavern has supplanted them in your heart, take comfort: They might be disappointed in you, but you'll never be disappointed in the Tavern.