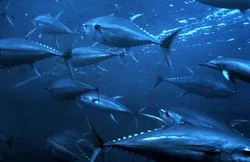 Yellowfin tuna, pre-scrape
Since last month Gut Check has been following Moon Marine's voluntary recall of frozen Nakaochi Scrape, which is tuna backmeat that has been scraped from the bone. In the United States, consumers are most likely to encounter this product as the tuna inside spicy tuna rolls.
In response to last week's post about this recall expanding to include precut strips of tuna meat processed by the same company, a reader made a sensible point:
I fail to see why "tuna scrape" is any more terrible than the rest of the fish. It's all dead animal muscle.
The problem, it seems, isn't the scrape but who or what is doing the scraping.
The food safety-focused Marler Blog (via food-politics expert Marion Nestle) has posted the FDA inspection report of the Moon Fishery plant in India that is the source of the contaminated tuna. The details are, shall we say, revealing:
Tanks used for storage of process waters have apparent visible debris, filth and microbiological contamination. Sand and activated carbon filter units used in manufacturing of water are not sanitized, and ventilation for tanks is not filtered to protect against contamination.

There is no laboratory analysis for water used in ice manufacturing at the [REDACTED] facility to show the water used to make ice is potable. Ice manufacturing lacks sanitary controls: ice manufacturing equipment at the Moon Fishery facility is located outside and is susceptible to adulteration from pests and the environment. Apparent bird feces were observed on the ice manufacturing equipment at Moon Fishery; insects and filth were observed in and on the equipment.

Ice manufacturing equipment at your [REDACTED] facility is rusty and situated so that the ice cannot be protected against adulteration, as the ice manufacturing process is constructed into the flooring of the ice facility. Tuna processed at your facility, which is consumed raw or cooked, comes in direct contact with water and ice.
The emphasis (and the paragraph breaks) in the above block quote are my own.