The Veggielante has had it up to here with people bitching that St. Louis restaurants are vegetarian unfriendly. Sure, we'd like to see more restaurants offering more meatless dishes, but there are excellent choices out there if you take the trouble to look for them. We're not here to proselytize about greening up your diet. Our only motive is to spread the word about places where you can order good grub that ain't got no meat. To enhance your reading experience, we've settled on a handful of criteria we'll use to suss out a restaurant's vegetarian friendliness.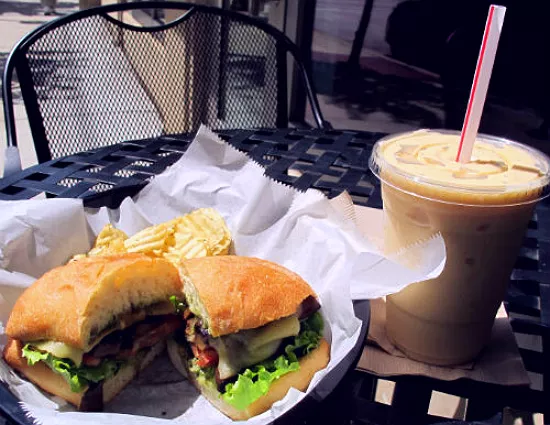 Rease Kirchner
The portabella mushroom sandwich and peach sensation smoothie at OR Smoothe & Cafe.
Destination: OR Smoothie & Café (3 North Euclid Avenue; 314-367-8883)
Neighborhood: Central West End
Cuisine: Vegetarian, Smoothies
Overview: OR Smoothie & Café is a health-conscious café and smoothie bar hidden away on North Euclid Avenue. While the café is not strictly vegetarian, there are plenty of healthy vegetarian options to keep meat-free mouths happy.
There are a couple vegetable-based soups, such as pea, lentil and squash, as well as salads, all of which make for great starters. The specialty menu offers a little more "meat," if you will, such as the rice or noodle bowl, which are both topped with fresh vegetables. We were delighted to discover that the wrap menu is almost exclusively vegetarian, offering tofu, portabella mushroom and tempeh wraps. The sandwiches include similar options, such as the portabella mushroom, veggie sandwich, veggie-crumble meatballs and the house veggie burger.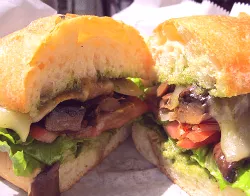 Rease Kirchner
The portobella sandwich at OR disappointed.
Gut Check was feeling especially ravenous the day we wandered to OR, so we ordered the portabella mushroom sandwich. We were really looking forward to a big, juicy mushroom, but our hearts dropped just a little bit when we received our sandwich, which was on the dinky side. Instead of a large, burger-style mushroom cap, we got slices of 'shrooms, heavily padded with lettuce, onion, cheese and tomato, all hidden inside thick bread. To be fair, the mushrooms were well cooked and the vegetables complemented them nicely, but we couldn't help feeling a little bit robbed, not to mention hungry. We also got a very sad side portion of potato chips, which were certainly nothing memorable. Next time, we'll spring for the veggie burger and get a little more protein and sustenance for our money.
The real star of the meal was the "Peach Sensation" smoothie we ordered to accompany our sandwich. The smoothie was thick, creamy and almost too delicious to truly be healthy. But judging by the blenders and piles of fresh fruit lining the kitchen, the smoothie was actually a fresh, nutrient-packed treat. There are several other basic flavors, such as the "Mango Tango" or "Raspberry Cream." On the "Power Smoothie" menu you can choose from boosters such as the "Protein Strawberry" or "Miracle Green." There is even a vegan-friendly, non-dairy menu with yummy flavors such as "Berrylicious" and "Delicious C."
While Gut Check was not thrilled with our less-than-filling sandwich, the flavors and freshness of all the food and smoothie items at OR Smoothie & Café are enough to bring us back for a second try, even if it's just for a light snack instead of a satisfying meal.