Selecting Riverfront Times' Best of St. Louis 2011 was no picnic. Choosing the winner meant several worthy candidates would go unmentioned -- until now. In this Gut Check series, we are chewing our way through notable runners up in a number of categories. To see hundreds more winners and finalists and download the Riverfront Times Best of St. Louis mobile app, visit our Best of St. Louis homepage.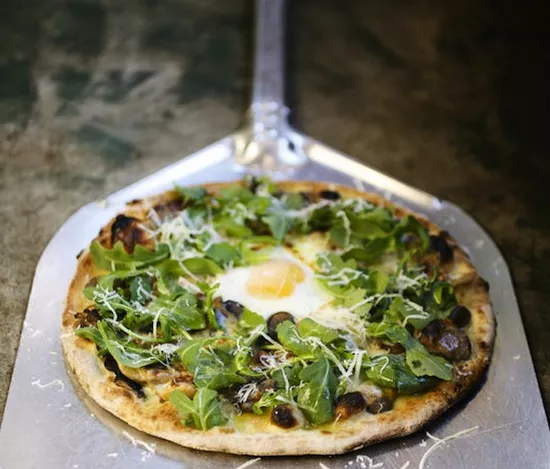 Jennifer Silverberg
A pizza from Mad Tomato, one of our finalists for "Best Italian Restaurant (Not Cheap)"
The Hill might be St. Louis' go-to destination for Italian dining, but our list of the best "not cheap" Italian joints in town ranges from the inner suburbs to the very edge of downtown. With, yes, a stop on the Hill along the way.
Page through to see the four finalists and our pick for "Best Italian Restaurant (Not Cheap)" in St. Louis.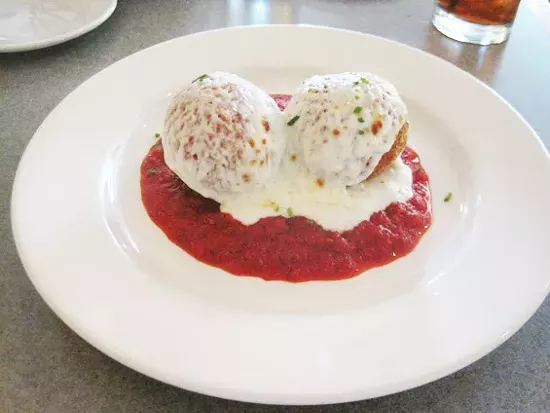 Ian Froeb
The arancini at Lorenzo's Trattoria
Lorenzo's Trattoria (1931 Edwards Street; 314-773-2223)
Though still a relative youngster on the Hill's crowded Italian restaurant landscape, over the past decade Lorenzo's Trattoria has established a reputation as a go-to spot for elegant northern Italian cuisine in a friendly, unfussy setting. The arancini (fried rice balls stuffed with ground beef) are a can't-miss appetizer, and the pasta dishes are superb -- especially the risotto. The veal entrées are fantastic, from fork-tender osso buco over saffron risotto to the succulent grilled veal T-bone. (Careful not to fill up on the tasty breadsticks that await you at your table.) The shorter lunch menu includes sandwiches, salads and pastas.
Cielo (999 North Second Street; 314-881-5800)
The restaurant on the eighth floor of the Four Seasons received a jolt of energy when Fabrizio Schenardi became executive chef in 2010. A native of Rivoli, Italy, Schenardi offers elegant takes on rustic cuisine: veal-truffle ravioli; grilled octopus in a lime-basil dressing; pork chops in a green peppercorn-grappa sauce. It's no small feat for Cielo to provide cuisine as impressive as its view, but Schenardi has managed the trick.
Jennifer Silverberg
The "Hunter's Egg" at Mad Tomato
Mad Tomato (8000 Carondelet Avenue, Clayton; 314-932-5733)
The latest restaurant from Vito Racanelli Jr. offers Italian cuisine best described as upscale rustic. Entrées are served in cast-iron skillets: The grilled steak and the roasted red snapper are both winners. Pastas are substantial, and the pork-rib ragu that coats a serving of maccheroni larghi seems to distill an entire pig into one rich sauce. The standout offering might be the "Hunter's Egg," one of the antipasti: An egg poached in tomato broth served over polenta, it's the hearty peasant dish of your dreams.
I Fratellini (7624 Wydown Boulevard, Clayton; 314-727-7901)
Diners continue to throng Zoë Robinson Pidgeon's tiny Clayton gem, drawn by the romantic, intimate setting -- actually, the restaurant's so tiny, you might feel intimate with the stranger at the next table -- and the fabulous food. Executive chef Ny Vongsaly's menu features can't-miss classics like short ribs braised in red wine as well somewhat more adventurous fare like rabbit-spinach ravioli. Belgian endive stuffed with fresh mozzarella and then wrapped in prosciutto is a must-have appetizer.
And the "Best Italian Restaurant (Not Cheap)"...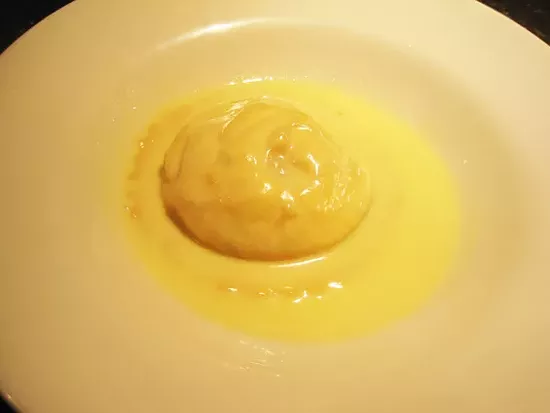 Ian Froeb
The egg raviolo at Acero
Acero (7266 Manchester Road, Maplewood; 314-644-1790)
This town has an abundance of red-sauce Italian joints (to put it gently). And if you're in the mood for simple, hearty food like someone's Italian American mama used to make, that's not a bad thing. Not a bad thing at all. But sometimes you've got your palate dialed up for something more, shall we say, refined. Not better, necessarily, but existing on an entirely different plane (albeit one that would knock Mom's socks off). Fortunately, that plane is well within reach. In fact it's centrally located -- in downtown Maplewood. The best restaurant in Jim Fiala's very strong family of four, Acero is spare and elegant, quite a contrast to the oh-so-decadent egg raviolo your server will rightly recommend: egg yolk wrapped in delicate pasta, served on a bed of mascarpone, ricotta and Parmigiano-Reggiano. Sure, it sounds like a heart attack waiting to happen, but after eating it, followed by a salad, an entrée and dessert, with plenty of carefully selected Italian wine to complement the medley of flavors, you'll swear you're in heaven.